Spotlight: Brenny Family Funeral Chapel and Cremation Services
October 10, 2019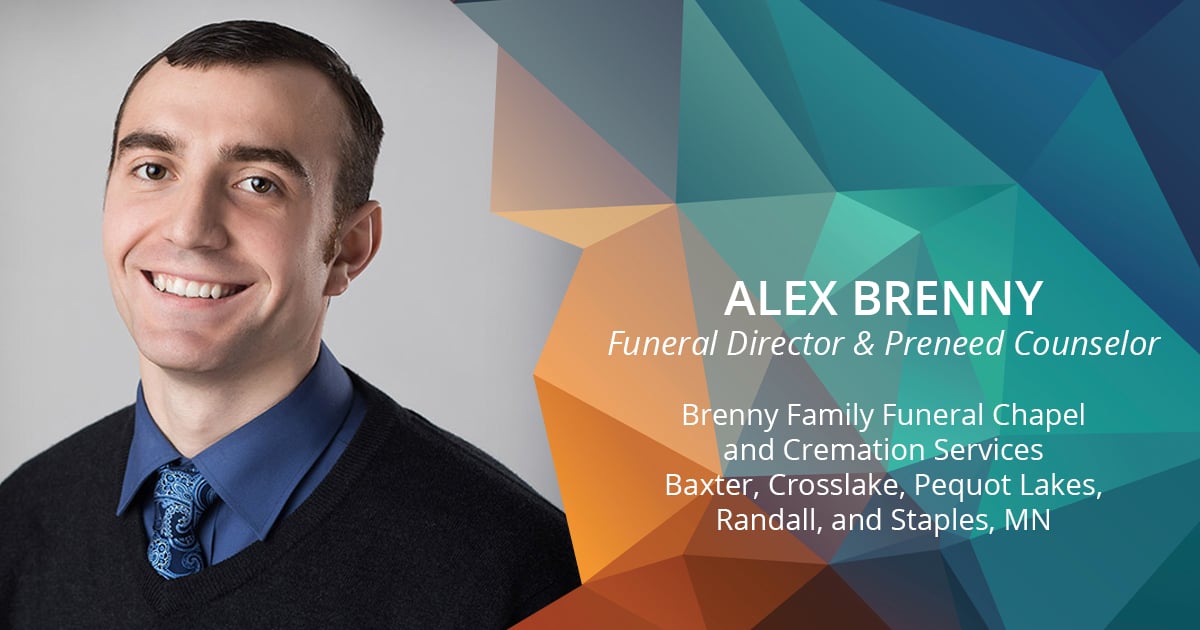 Alex and the Brenny Family staff began looking for a funeral home software that would increase their efficiency, and keep them organized across five locations. Passare stood out.
Baxter, Crosslake, Pequot Lakes, Randall, and Staples, MN
Call Volume: 300 Calls/Year
For more information, contact Alex Brenny at alex@brenny.com.
Alex Brenny is a funeral director and preneed counselor at Brenny Family Funeral Chapel and Cremation Services. After their old software became outdated (with no sign of pending updates), he and the Brenny Family staff began looking for a software that would meet their needs, increase their efficiency, and keep them organized across five locations. Passare's cloud-based case management system stood out, especially its organizational and communication abilities.
What was your process like before going with Passare?
Before, we used a different software program, which did many of the things we needed, but it had become outdated and cumbersome. The company wasn't updating the software, so we started looking for something that would help us out in even more ways. Also, since we were expanding, we needed a platform that would help us keep everything organized.
How has Passare helped your staff manage multiple locations?
The biggest thing that Passare does is that it helps us know what each location is doing. Each location is in a different area with different dynamics of people. With so many moving parts, we had to have a way to keep track of what's been done and what hasn't. Passare helps us track all our locations so we can tell how they are performing independently.
What are some features that you are living in Passare right now?
We are still relatively new to Passare, and we are learning about new features all the time. Some of the ones that stand out are the ability to bill pay and invoice families after the funeral, the ease of generating custom reports, and the tracking capabilities (especially for our merchandise). We have also used the Collaboration Center with a few families and are moving toward implementing it on a larger scale. The families that have used the Collaboration Center were mostly out-of-state families, and they loved it! We were able to communicate with them from start to finish through the Collaboration Center, and even though they weren't local, it was easy and convenient.
What is the biggest benefit to using Passare?
Before we started using Passare, communication was inconsistent. Simple things were falling through the cracks, and it was making us look like we weren't professional. Since implementing Passare, we've been using the notes feature a lot. We add in notes along the way, and then before the funeral service, we can go back and read the notes to make sure we crossed all of our T's and dotted our I's. That's been incredibly helpful.
How have your employees responded to Passare?
They have loved it and definitely see the potential. They have found Passare very useful and user-friendly. At first, as with anything, you think, "How does this work?" But once you get it, Passare's really simple, and it makes a lot of sense using it.
How was your customer service experience been with Passare?
I would say that it's been amazing. While they might not always know the answer to my question right away, they always work on it until they do know the answer to my question. And if there is an issue, they get it resolved quickly. Whenever I have a question about how to do something or if it's possible to do it, I always call our representative. She's on the ball about getting my questions answered and figuring out if there's a way to do what I need. And if there isn't currently a way to do it, they look into making changes to Passare to accommodate for it.
What would you tell other funeral professionals about Passare?
I would definitely recommend Passare to any funeral home owner. The fact that it's cloud-based is a huge deal because it allows everyone to have access from wherever they are. And for me, the fact that it helps keep us organized is a big deal, especially across locations. We are very happy with Passare.