Spotlight: Brownfield Funeral Home
June 04, 2021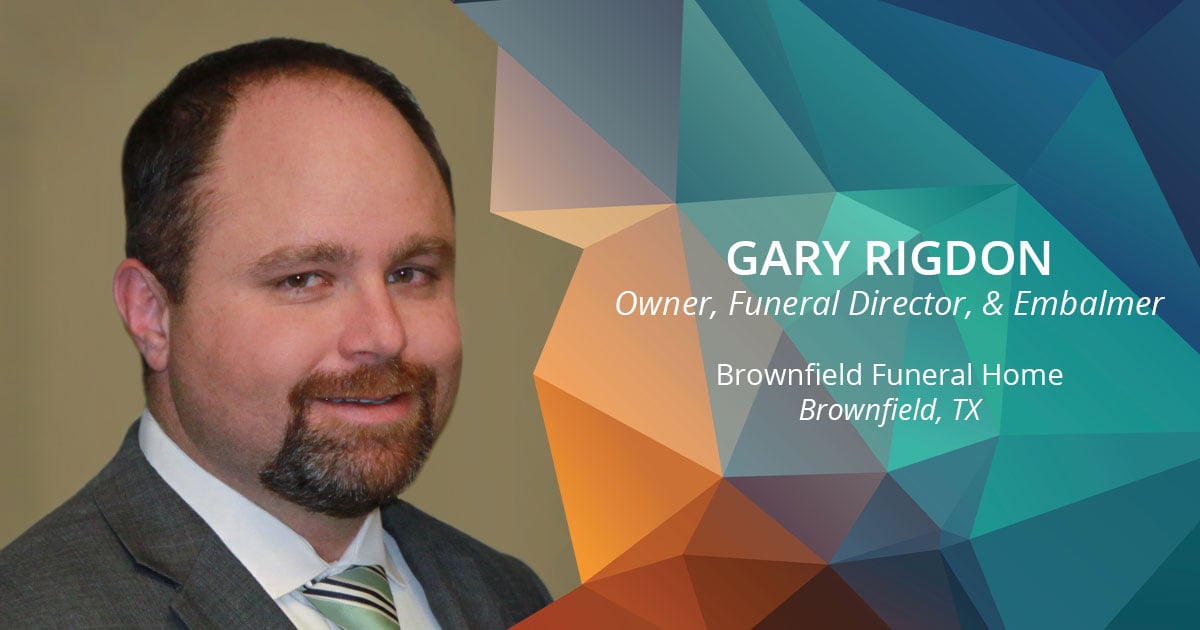 Gary describes his experience with the Passare Adoption Plan, including training and learning how to use the all-new Planning Center and Inventory Management!
Gary Rigdon
Owner, Funeral Director, and Embalmer
Brownfield Funeral Home
Brownfield, TX
Call Volume: 100 Calls/Year
For more information, contact Gary Rigdon at garybfh@gmail.com.
Gary Rigdon at Brownfield Funeral Home has been a loyal Passare customer for years. Realizing there was a lot he didn't know about the platform, he decided to do an Adoption Plan. With extra training provided by the Passare team, Gary and his staff learned how to use the all-new Planning Center, gained computer confidence, and learned to use Passare more efficiently!
Were you using a case management system before Passare? And if so, how did you hear about Passare?
We were using a different program before, and they quit updating it and wanted us to get their newer program. And I think my rep from Funeral Directors Life (FDLIC) came by and talked to us about Passare. After looking at two or three different programs, Passare seemed like the best fit for our funeral home.
How did you know you needed to do an Adoption Plan? What were the biggest benefits?
We didn't do an Adoption Plan when we started two or three years ago. When I decided to change the bookkeeping portion over to Directors Business Solutions (DBS), DBS and Passare recommended a Passare Adoption Plan to ensure more accurate financials with DBS and greater efficiencies in Passare. And to be honest, I was on the fence because we had all been using the program already, but I decided that it couldn't hurt to get everyone a little bit better trained. I'm glad we went that route because I hadn't realized all of the updates and new features that Passare had done since we started using the program.
One of the benefits is everyone's a lot more comfortable using Passare, so much so that we've streamlined a lot of our checklists. We've taken our normal paper checklist and transferred it to Passare for every case, saving us a lot of time. For me, that's huge because I get calls all the time at night from families, and I can check on things or make changes from home, which is nice and convenient.
What was a feature within Passare that you learned more about with the Adoption Plan?
We started using the inventory portion of the program. We're a small funeral home and don't keep a lot of inventory, but it helps us track the caskets we have in storage. So, if a director goes in and waits on a family, that director can either be confident that we have a specific casket or let the family know they'll have to order it, leading to a delay. The wait time is usually not very long, but tracking inventory ensures that we don't make promises we can't hold to.
Besides Inventory Management, are there any other features you're loving?
eSignatures! We use eSignatures quite a bit, especially since we've been serving families that either don't want to come to the funeral home or are out of town. That feature helps a lot with getting all the signatures we need for cremation or for our contracts and other required paperwork. The Planning Center in general is extremely helpful.
Can you elaborate about the Planning Center?
Absolutely. Before the extra training we had, we hardly ever sent Planning Center invites. Since doing the Adoption Plan, we send an invite to almost every family. Families can go home and make changes throughout the night and have time to sit down and think about the obituary – even write it collaboratively. Even family members in different households can log in and verify the information that we've already put in for them, or they can fill in the blanks for the questions, like vital statistics and the obituary. And that collaborative process helps prevent errors on our end.
In the past, about half of all families would bring in a handwritten paper obituary or bring in printed, typed version, which we would then have to retype. Now, we can invite families to collaborate online and walk them through the process so that we're on the same page the whole way through.
What would you tell another funeral director or professional about the Adoption Plan or about Passare in general?
If they were going to switch to Passare, I would recommend the extra training with the Adoption Plan. Passare is an easy program to use, but the training showcases a lot more of the minor features that you wouldn't normally notice on your own, but that are helpful. Our staff isn't the most computer savvy, and the training made everyone so much more comfortable using Passare. When we have confidence with the platform, we're more confident using it with families.