Spotlight: Campbell-Plumly-Milburn Funeral Home
December 22, 2017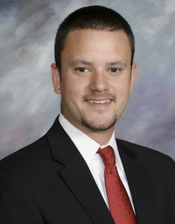 Passare customers share their secrets of success through collaboration Campbell-Plumly-Milburn Funeral Home
Location: Barnesville, Ohio
Call Volume: 100 Calls/Year
For more information, contact Chase Milburn at chasemilburn@hotmail.com.
Chase Milburn is a second generation funeral director at Campbell-Plumly-Milburn Funeral Home in Barnesville, OH. He and his firm decided to go from using a pen and paper filing system to using Passare to track cases and collaborate with families. What Chase loved the most? Passare's stellar customer service and ease of use, which has allowed him to spend more time at home with his family.
What do you think is the biggest benefit of using Passare?
The biggest benefit is probably being able to work at home. After I meet with a family, I can do everything on my computer. No matter where I am, I can access everything that I need to, answer questions, and find out any information that I need. And it's just easy to use. This is by far the easiest system I've used. It's everything I need and more.
So what was your process like before using Passare? Were you on a different software program or using pen and paper?
We were using pen and paper. From the first meeting with the family until I put the file away, I would easily have to rewrite the children's names five times. Between the ledger sheets, the obituary, and the first call sheets, it was just very repetitive. We were old school.
So Passare now saves you quite a bit of time?
Definitely. When I sit down with a family with my computer, I type their information in once, and I know it's right because I have the family proof it. From there, I know that the books are going to be correct, the obituary is going to be correct, everything will be correct going forward. It makes things a lot easier. It's quicker and more effective. I also get to spend more time at home. I used to spend a lot of time trying to get caught up on paperwork. We have one daughter and one on the way, so all the time that I can get at home is much needed.
Have you seen improvement and updates in the platform over the last few months?
I actually submitted an idea to the Passare team not long ago, and within a few weeks, it was implemented in an update. Just the fact that they took the time to update something minor like that is just phenomenal. From where we started with Passare five months ago to where we are today is just remarkable. They have added the Care Center with the ability to track everything that is happening in the prep room, which is just phenomenal. We can add notes and keep track of where we are with each case.
How would you describe your experience with Passare's customer service?
They have gone above and beyond what I could expect. Every other week, I get an email just asking if I need anything. I have friends who use other systems, and they say even to get a form made for them is a hassle. The customer service isn't there, and to me, that is one of the most important things to look for in a service like this. I mean, you always hope that after you sign up with a service it isn't the last time you are going to hear from them. But with Passare, they want to make sure everything is good for you. They stay on top of it. They don't forget about you.
What has your experience been like with the Planning Center?
We haven't really gotten into using it with every family yet, but we have used it a few times with families who are out of the area and with a few local families. I think it is beneficial for families to have something to do while they are sitting at home. It saves them time in the arrangement conference because they are not bogged down with the small details, and I am able to spend more time with them on personal questions. I think they enjoy that. Also, I think that with the increase in direct cremations, the Planning Center will help us make reduced-cost cremations more cost-effective. We have some families who just want the cheapest option available, and if we can send them a link to have them fill out all their information online, then that just saves us time and helps bring down the cost of offering that service.
If you were talking to other funeral professionals, what would you tell them about Passare?
Sign up yesterday! If you have a system, switch. The customer service is the best. They are there for you. If the system can't do what you need it to do, they will figure out a way to get it done. It will save a funeral director time. It will give you more time at home, whether you are working more from home, or just getting more done while you are at the funeral home. I actually did talk to a local friend of mine. He signed up with Passare, and he seems to like it, too. It's just amazing.
Anything you'd like to add?
I know there are still funeral homes out there who are using pen and paper like we were. I know it can be intimidating to move to such a detailed, all-inclusive system. But the ease of use of this system is what made the transition easy. Having a Planning Center and a system that can print out any form you could need – it's worth it.