Spotlight: Cavin-Cook Funeral Home & Crematory
June 08, 2021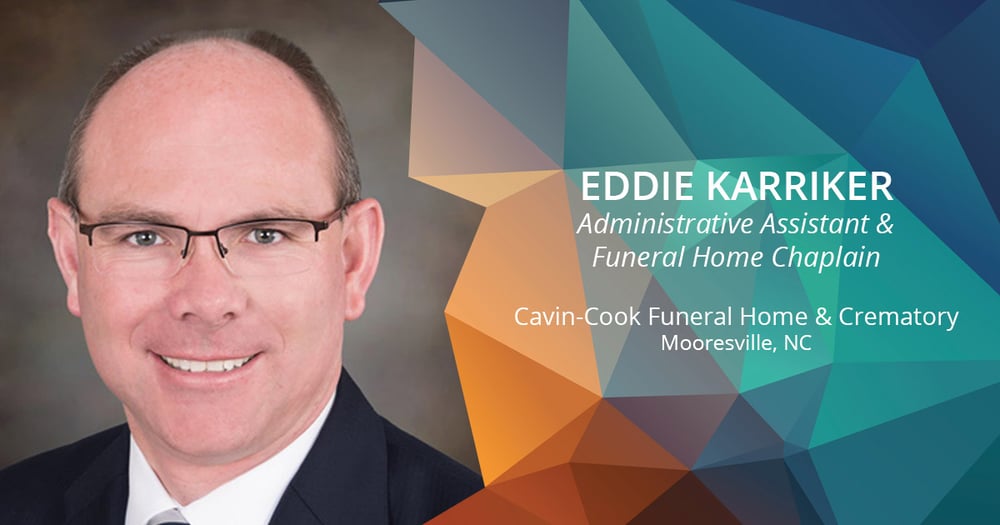 With Passare's cloud-based software, Adoption Plan process, and premium support, Cavin-Cook Funeral Home unlocked the power of Passare for their business!
Eddie Karriker
Funeral Assistant
Cavin-Cook Funeral Home & Crematory
Mooresville, NC
Call Volume: 550 Calls/Year
When the team at Cavin-Cook Funeral Home & Crematory signed up for Passare, they saw immediate benefits with cloud-based case management and better communication with their team. However, they realized they were not using Passare to its full potential. When Eddie Karriker heard about Passare's customized Adoption Plan option with dedicated on-site training and ongoing direct support, he knew that this plan would be the key to helping him and his team unlock the power of Passare for their entire business.
How did you know you needed to do an Adoption Plan with Passare?
When I came to Cavin-Cook Funeral Home in the fall of 2019, it was important to me to understand how we were supporting our families, staff, and stakeholders with our processes and structures. I quickly became aware that we were not utilizing Passare to its full potential largely because we did not know what tools and features were available, such as accounting, decedent tracking, checklists, systems/processes, resources for staff, support for families via the Planning Center, and much more.
We enquired about custom, hands-on training options that were available to help our staff better understand Passare and be able to use it with fidelity. Kelsey Swearingen and the Passare team shared with us about Adoption Plan options and what this training would entail. Upon hearing about and understanding the Adoption Plan, it was a logical decision for Cavin-Cook Funeral Home to invest in this tool to help us in our day-to-day processes and structures.
What was involved in the Adoption Plan process?
Our leadership team met with Kelsey Swearingen, Director of Premium Services, and told her about our funeral home staff, processes, and structures. Then, she created a customized Adoption Plan that would allow Cavin-Cook Funeral Home to use Passare effectively. Kelsey then discussed with us three different pricing options for ongoing support in our Adoption Plan, from basic to premium, based on the level of involvement we needed with the Passare team. We decided to purchase premium support based on our desire to maximize our Adoption Plan experience. Premium support includes services such as ongoing implementation, monthly goals and training for increased adoption, and direct access to senior support staff.
Overall, the Adoption Plan created synergy for us and greatly improved our funeral home's daily processes and structures. We began by meeting twice per week for remote training with the Passare team. These trainings were Zoom meetings, tutorials, lessons, web links, etc. that were designed to help us better understand our strengths and weaknesses. Along the way, Passare team members learned more about the Cavin-Cook staff and encouraged us in ways that would allow us to work more effectively and efficiently.
What did the premium support option include for Cavin-Cook?
The premium option was the best choice for us because, in addition to meeting twice per week for remote training with the Passare team, this option offered a two-day onsite training. We knew our processes, and the Passare trainers knew their program, so those two combined would be a huge benefit to our funeral home. As the Passare staff learned more about our staff, they helped shape our processes to better utilize the features of Passare and the skillsets of the of each staff member. During the on-site training days, Kelsey and the Passare team made major adjustments to the agenda to meet the needs of our company and where we were in the growth process.
Having Kelsey and the Passare team physically here was invaluable. When they left, I told them, "You have become such a part of our team and our hearts that we do not want you to return to Texas." They are truly that special, and having them on our campus was amazing.
What do you think has been the biggest benefit of the Adoption Plan and premium support?
The biggest benefit to me is having direct access to senior level leadership and support and the continual growth of our relationship. I get inundated with questions throughout my day from various people in our company: business owners, funeral directors, office staff, and part time staff, and if I had to call Passare every time I had a question, it would be exhausting for me to continually explain our current situation, people, and processes. It is for that reason that Cavin-Cook Funeral Home chose to pay the monthly fee for the continual premium support. Now I have access to people who understand our team and where we are in our growth process as well as their continual willingness to coach, mentor, and advise us.
I am excited to see where we will be in six months so I can look back and say, "I know we were kicking and screaming at first, but now that we have rolled out more training, better understanding, and support, look how much easier our jobs are and how much better service and support we are giving our families and community." In fact, in a recent meeting with our leadership team, I was asked about a specific data point, and within a couple of minutes, I was able to provide up-to-date information because I understood how to use the reporting programs of Passare.
What would you tell another funeral director or professional about Passare's Adoption Plan? Would this process be something you'd recommend?
I would highly recommend implementing a Passare Adoption Plan. The process highlights your strengths and pinpoints your weaknesses so that you can improve upon them. Kelsey and and the Passare team helped us through some raw, frustrating times during this process, and even though the Adoption Plan is "finished," our staff has chosen to extend this level of support on a monthly basis. If you are willing to embrace the process, you will see great results.
At Cavin-Cook Funeral Home, we want to make sure that we are growing as effectively and efficiently as possible and utilizing Passare with fidelity helps in this journey. As we have learned how to use more features, we have been better able to serve our families, especially since we only have one chance to make the moment right for them.
Want to see what Passare can do for your funeral home?