Spotlight: Johnson-Hagglund Funeral & Cremation Service
October 24, 2019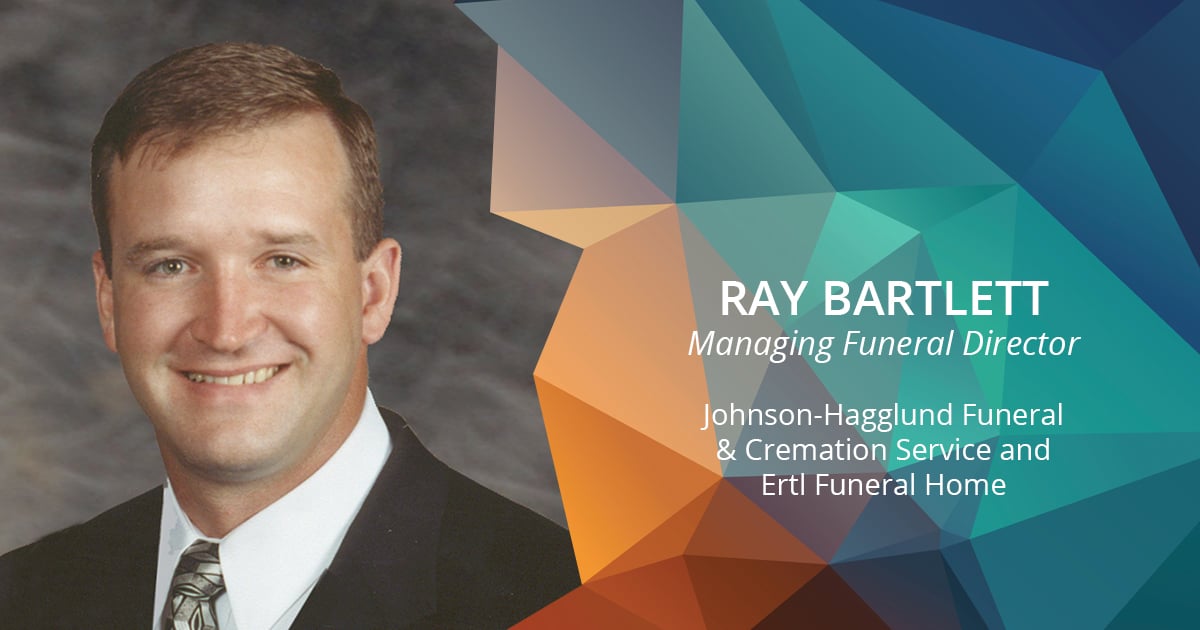 Ray Barltett needed funeral home software that would meet his funeral home's needs, and Passare's cloud-based case management system stood out.
Litchfield and Watkins, MN
Call Volume: 135 Calls/Year
For more information, contact Ray Bartlett at ray@johnsonhagglund.com.
Ray Barltett is the managing funeral director at Johnson-Hagglund Funeral & Cremation Service and Ertl Funeral Home. After realizing that their hodgepodge system wasn't working well or creating value for families, he began looking for a software that would meet their needs, increase their efficiency, and keep them organized. Passare's cloud-based case management system stood out, especially its portability and flexibility.
What is the biggest benefit of using Passare for you and your staff?
First, I think the biggest benefit is the flexibility that it affords us. We don't have to create our own documentation and tracking, and we can pull reports easily. Passare gives you exactly what you need when you need it. A very close second is the support team. They are phenomenal. If we have any questions, answers are just an email or a phone call away.
How has Passare helped you manage two locations?
This question actually leads me to another reason why we went with Passare. We're basically one funeral home with two different locations, and Passare is almost like a virtual office that we can carry with us. It has everything we create – all that information – and whether we're in the office or 20 miles away, we still have access to all the same details.
For example, the other day I was out fishing with my son, and I got a phone call from another funeral director who needed the name and phone number for a certain person. He asked, "Well, do you have to go back to town?" I immediately thought about Passare and said, "Oh, wait a minute. I have a little Rolodex on my phone through Passare. Let me check real quick." I was able to give that funeral director what he needed right there from the front of the fishing boat.
Has Passare helped you collaborate and work more efficiently as a team? If so, how?
Passare adds a deeper level of communication to our team. Tom, who oversees our second location, may put information into Passare, and right away, I can access it. We don't have to spend time calling, texting, or emailing each other back and forth. We can each go into Passare and get the information we need quickly. Also, with Passare, we aren't duplicating data. When you have to add the same information in multiple places, the chance of errors increases. With Passare, you're putting the information in there one time and everything is updated automatically. As long as you get it right the first time, it's guaranteed that you're not going to have typos and mistakes down the road.
Have you used the Planning Center with families? If so, how?
Yes, we have. We offer the Planning Center to every family we serve. I gather email addresses at the time of death so I can send links to them right away. Some of our families come from a distance, and the Planning Center gives them an opportunity to get started even before they arrive. It allows family members to talk to each other, and I can even begin working on the details they've mentioned and come back with answers. Not every family uses the Planning Center, but those that do use it, love it.
How have your employees responded to Passare?
At first, they were a little resistant to change, comfortable with how things were, but once they got into Passare and started doing it, they saw the value in it and now they think it's great. Our Office Manager was initially a little wary, but now, she's a big fan and has really embraced Passare and loves it. She's now telling everyone else, "You've got to use it. It's great." Once you are familiar with the system, it's incredibly streamlined and saves a lot of time.
What would you tell another funeral director/professional about Passare?
Well, I already talk to other funeral directors about Passare. I tell them that we use it and love it. I tell them about the flexibility and that you can access information from anywhere. Some have said, "I don't want to take work home with me," but I don't think of it that way. Using Passare frees me up, so that I don't have to be tied to the office. It allows me to serve families better, and I've never met a funeral director who's said, "No, I don't want to serve my families better."