Spotlight: Liberty Mortuary, Inc. & Holtzclaw Custom Memorials
February 28, 2021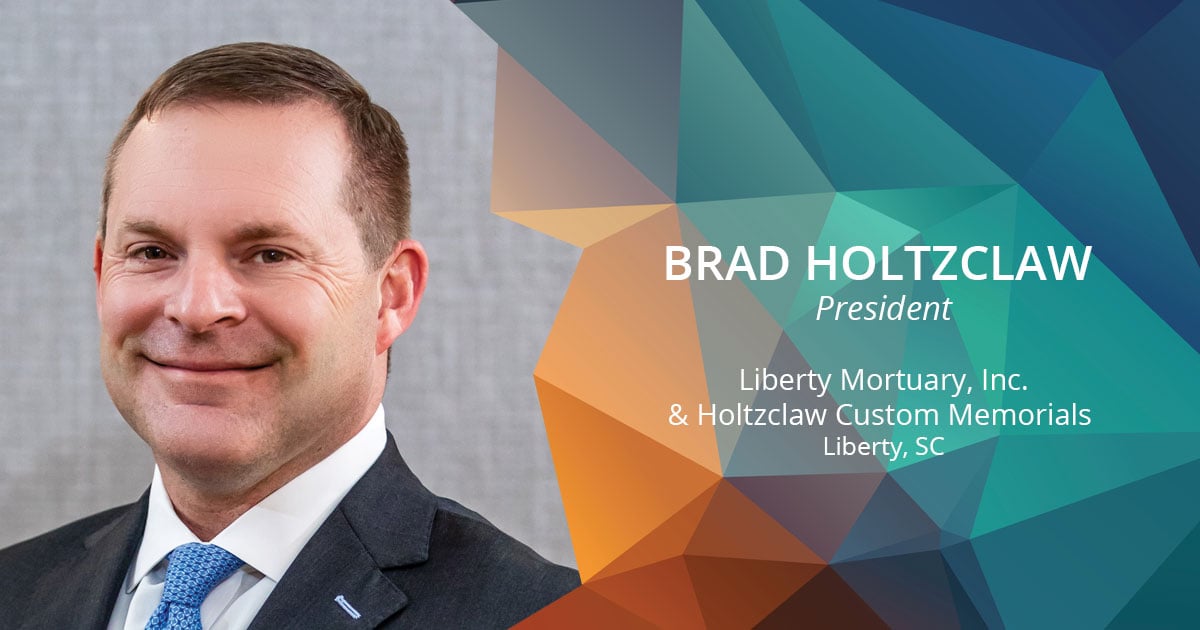 Brad Holtzclaw discusses how Passare's time-saving integrations and customizations improved his business and enhanced his service to families.
Location: Liberty, SC
Call Volume: 128 Calls/Year
For more information, contact Brad Holtzclaw at brad@libertymortuary.com.
Brad Holtzclaw, President and General Manager of Liberty Mortuary, Inc. & Holtzclaw Custom Memorials, knew he had to update his former funeral home software that he had used for decades, but he didn't know which software to choose. After a casual conversation with his friend, a Passare user, Brad was intrigued by Passare and what it had to offer. After seeing how Passare offered time-saving integrations and customizations, Brad knew Passare was the business solution for his funeral home and families.
What was your process like before your funeral home began using Passare?
We used our previous system for a few decades, but the software was not compatible with a Mac computer (which I use). One day, a friend of mine at Thomas McAfee Funeral Home in Greenville was casually talking about Passare. He explained how it worked, how they did arrangements with technology when meeting families, and how he was doing it all on computers and laptops, even MacBooks! After our discussion, I thought maybe Passare was something we needed to look into.
So, I had been resigned to the idea that I needed to switch for several years but had never really taken the time to find something I liked. Since somebody I knew and trusted told me about Passare, and we were already a Funeral Directors Life customer anyways, it worked out well. It fit. Shortly after, I got in touch with Sharaie. We met up online, talked, and she showed me the demonstration. Then, we went from there.
How long have you had Passare and what was the implementation process like for your funeral home?
We have had Passare for about six months. Implementing it wasn't really bad at all. We had to purchase laptops and get used to sitting down with a family with a laptop instead of pen and paper, but as far as implementing it, I haven't had any issues. Once Sierra showed me how Passare worked, all we had to do was start using it and typing information in there. It's really user friendly.
What would you say has been the biggest benefit of Passare for you and your staff?
Besides it being easy to use, having everything in one place has been a huge benefit. We use Passare for data entry and for customizing and printing forms, memorial folders, death certificates, and VA forms. I don't have to open several different applications; everything is in one place. Creating envelopes is so easy and being able to load and save all of the forms for a particular case in Passare is probably my favorite feature.
Another benefit of Passare is the internet-based software. Being able to use it anywhere I go, from any device, is really nice. I constantly use Passare on my iPad and laptop with no issues.
Has Passare helped you increase your funeral home's efficiency and save time?
Absolutely. We have a few integrations connected through Passare, like online credit card payments, CLAIMCHECK to process our life insurance assignments, funeralOne, our website host, and Funeral Directors Life for our preneed contracts. Literally everything that we do now is through Passare because we type the information once, and it populates everywhere else. Before Passare, we had a management software for cases, and then we used a different program to create printed materials, so there was a lot of back and forth using different computer programs for different things. Now it's all in one place.
With Passare, we're more efficient because it's much easier to leave notes and update each other about cases. We use the notification feature, so all we have to do is tag the right person in order to send notifications and updates to their cell phone and email. Like I said, everything you could need is in one place.
How would you rate the customer service that you've received from the Passare team?
It has been great! I have no complaints. Sierra is always quick to respond to any question I have. She has helped me fix things that needed changing, like little tweaks to forms. She has been great and has done a fantastic job of teaching us and helping us with specific things customized the way we want them. On a scale of one to 10, the customer service has been a 10.
What would you tell another funeral director or professional about Passare?
I would say it's the easiest way to keep all of your information together at your fingertips wherever you go. It's kind of like having another employee that organizes your information for you. And I'd mention that Passare is super easy to use, which is a good thing in our industry because people are at varying levels of computer literacy. All it takes is sitting in front of a computer and seeing what it can do. And the best part is, if you need help with anything, help is just a phone call or email away.
You, too, can experience the benefits of Passare by seeing a demo today!