Spotlight: Miller Funeral and Cremation Services
February 02, 2022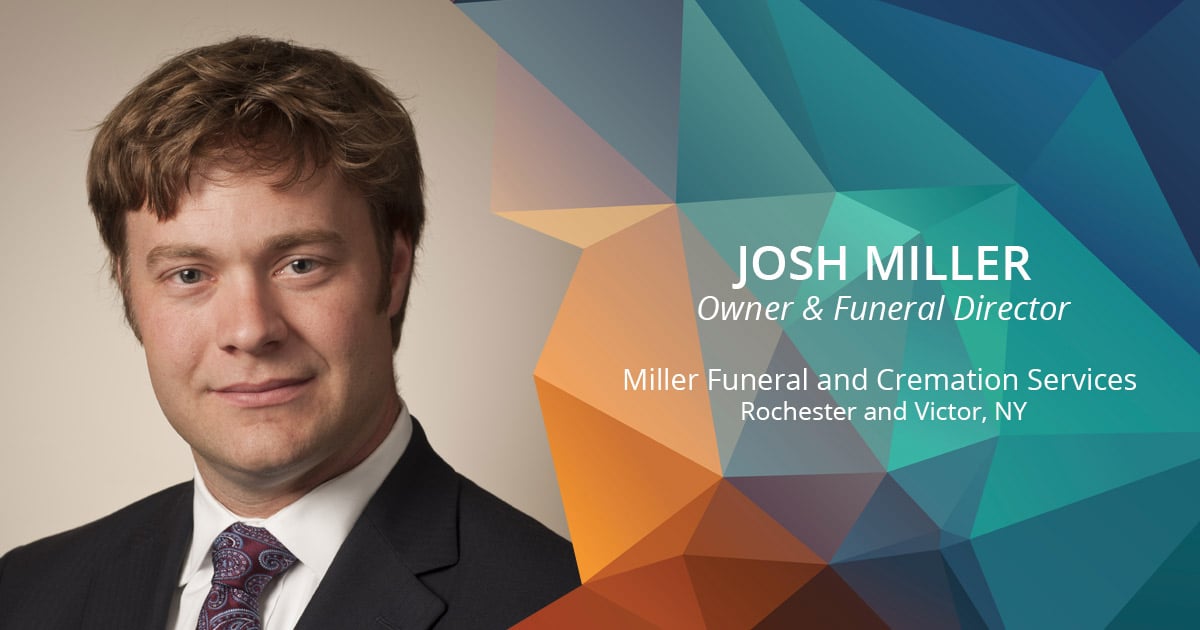 After using the same software for 20 years, Josh Miller found that his team needed something new to keep up with their vision and growth. He found exactly what he was looking for in Passare.
Locations: Rochester and Victor, NY
Call Volume: 650 Calls/Year
For more information, contact Josh Miller at JoshMiller@miller1889.com.
After using the same software for 20 years, Josh Miller found that his team needed something new to keep up with their vision and growth. He found exactly what he was looking for in Passare. Knowing that the transition from one system to another can be an overwhelming process, he used Passare's Client Services option, a team of Passare experts providing concierge-like service, customization, training, and support throughout the entire transition process and beyond.
First, let me ask, when you were searching for the right software to fit your needs, what was it about Passare that drew you in?
Three things come to mind. First, the Planning Center. With an invitation link, I can invite families to log into the platform and start adding all the details we need, like death certificate information and the obituary. Having an online collaboration tool has been especially helpful during COVID, and it perfectly complements any video calls we have with a family. Second, Passare is proactive about growing and changing with the profession. I'm confident that as my business grows and changes, Passare will adjust and change with me. And lastly, Passare provided one common space for communication with my staff, sharing messages, tagging people, getting rid of the need for endless sticky notes. We've even switched from a whiteboard system to a TV screen, where we can easily track every detail. It's been a breath of fresh air.
With Client Services, there are four phases: discovery, training, support, and growth. What was the discovery phase like for you?
Nick Tunheim and Rachel Galloway worked hard to learn how we've been doing things, what our vision is for how we'd like to do things, and then plugging our vision into Passare. And if we wanted something specific, Nick would either say "Let's see what we can do about that," or "This is what other folks are doing to meet that need. Let me s how you." So, my experience was great! It was impressive how quickly Nick and his team picked up on what we do and what we would like to do.
Once Client Services understood your vision, how did they help you tailor Passare to meet your specific needs?
One fear that kept us from changing platforms for so long was the mountain of work that comes with such a big switch. But with Client Services, that mountain was easily removed. If anything, I didn't utilize Nick and Rachel enough. They cleared a pathway for us to follow, and then helped us follow through to completion. One specific example of a way they helped us customize Passare was with our first-call sheet. Essentially, they built out a checklist to match the first-call system we preferred. Now, the checklist expedites our work because, depending on the selections you make, in terms of the types of services, it gets rid of questions on that checklist that are unnecessary. It makes the process so much more efficient for us. Plus, Passare has an impressive catalog of forms and documents so we didn't have to re-create a s many forms as I feared we would.
And how did the training process go? How have your staff responded to Passare?
Because of COVID, our training has taken place via Zoom rather than in-person, which has been helpful for us, actually. While we miss out on the more personal element of being in the same space, we've been able to spread the training out a little more. Nick and Rachel have helped us lay out a plan, and we are getting it done in phases as we move toward my end goals.
As for my staff, they have embraced it wonderfully. I included my staff in the process of selecting a new software, and every time, they said "If we picked today, Passare would be my choice." As for the training aspect, Passare has been user friendly and easy to learn. I had an assistant come in who had no background in funeral service, and she was able to navigate Passare almost immediately. The biggest challenge is making that mental shift from physical paper to electronic ink. Thankfully, Nick and Rachel have been there to help us every step of the way.
Moving on to the third phase, how would you rate the customer support you've received from Client Services?
If you're on a scale of 1 to 10, it's been a 10, easily. And I don't normally give out tens; you can ask my staff. Client Services has exceeded my expectations. I hemmed and hawed about the additional expenditure, but without a doubt, it has been worth it. On my own, I would probably be stuck half in the new system and half in the old, but Nick and Rachel have created a clear path for us, doing everything we've asked and customizing things to be just for us. It's been wonderful.
As time passes, Client Services will continue to work with you and provide reports and assistance to help you continue to grow. Based on your experience so far, if another funeral professional were to ask you about Client Services, what would you tell them?
Passare's Client Services keeps you and your staff on task and makes sure that you are utilizing the full bandwidth Passare is able to provide. I don't think I can truly quantify the value of having an expert with you through the entire process, holding your hand and ensuring it's all done right. As a smaller, family-owned funeral home, I was nervous about the expense, but with Client Services, the program matches and even exceeds the expense. Even if the number had been another 1 1/2 times higher, I would say that it's worth the money. To me, if you have Passare and you don't use it the way it's built to be used, you're missing out. That's where Client Services steps in – they make sure that I get the most and the best out of Passare.
It all started with a free demo. Schedule yours today!