Spotlight: Minor Funeral and Cremation Center
June 28, 2021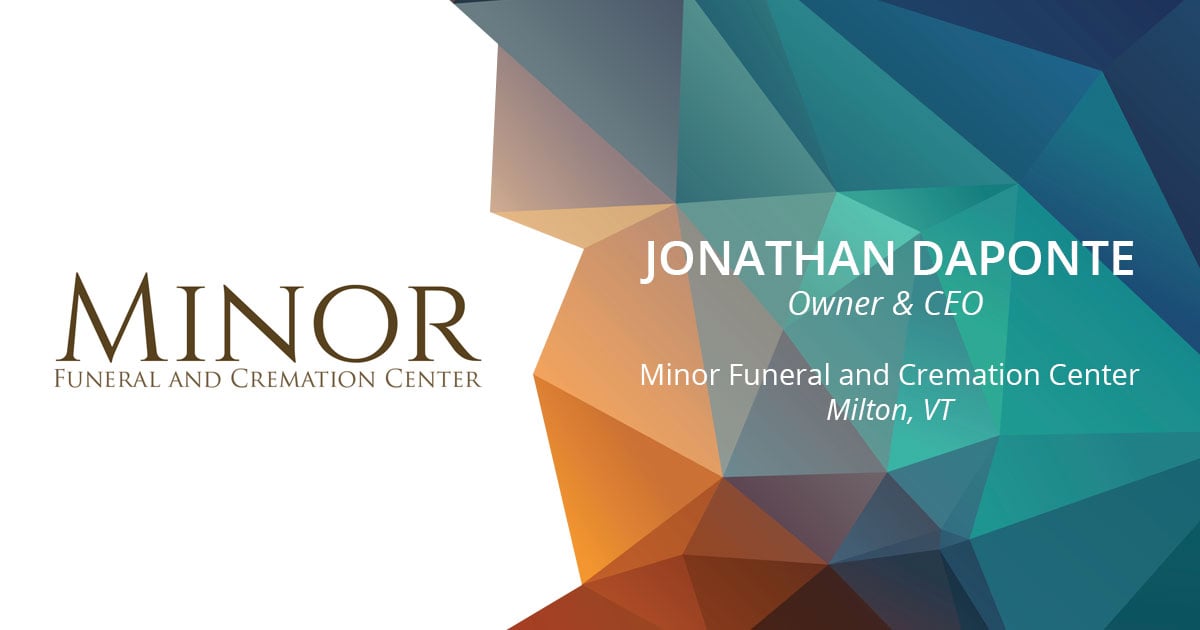 Jonathan daPonte, CEO, knew he wanted funeral home software that was cloud-based and had a great support team. Passare was the answer!
Jonathan daPonte
Owner & CEO
Minor Funeral and Cremation Center
Milton, VT
Call Volume: 175 Calls/Year
For more information, contact Jonathan daPonte at jonathandaponte@yahoo.com.
After purchasing his funeral home, CEO Jonathan daPonte knew that he wanted to implement funeral home software that was cloud-based and had a great customer support team. Passare was the right choice, especially with its easy-to-use software and time-saving data entry!
Were you using a case management system before Passare? If so, what made you want to switch?
I was using a different data management software, but it wasn't a cloud-based platform, meaning I couldn't access my files remotely. Plus, the customer service was not good at all. And I didn't realize it at the time, but the information I can populate with Passare is much better than what I was able to do with the previous platform.
Well, that's good! So, what was your biggest concern about switching from one funeral home software to another?
I wasn't too concerned with switching software platforms. When I bought my funeral home, they didn't have any software whatsoever, so I decided on Passare based on a previous experience with it and how much I had appreciated the platform's features. Ultimately, the combination of Passare with Funeral Directors Life Insurance Company is what drove me to go to Passare instead of a competitor.
In the end, everyone has the concerns or the fear of the unknown, but your customer service has eased a lot of stress. They have been very accommodating and have assisted me by walking me through specific things on the platform, no matter how small they seemed.
When you decided to go with Passare, what was the next step? What was the implementation process like?
I was assigned an implementation manager at Passare who gathered my price lists and any other information needed to customize the platform for me. I received training on basic functions like data entry and printing forms. Before Passare, initial data entry for each case would take me up to 40 minutes to handwrite and type. Now, forms take me about 10 minutes to fill out collectively. Plus, since they're typed, they're more legible than handwritten documents.
You mentioned earlier that your previous software wasn't cloud-based. What has changed now that you have cloud-based access with Passare?
I'm still learning more about the platform, but I have used it at home. One time, someone called at 7:00 at night, and I was able to log in and see everything. With the previous install-based software, I would have had to tell the caller, "I'm going to have to call you back tomorrow." But with the cloud, I can check on cases or my business from home or anywhere I can connect to the internet. And if I wanted to take the day off as a business owner and not be in the building, I could still answer phone calls and input or check on data from anywhere.
How do you feel about the quality of support you've received from the Passare team?
The Passare support team is incredibly responsive and quick to reply. I can think of an example recently. There was an issue with the goods and services statement where taxes needed to be removed. Before I mailed it to the family, I let the Passare team know to see if they could fix it, and they removed that part within a half hour. Really any time I need changes to specific forms, I say, "Hey, I'm not liking this. Can we change this?" And they get it done quickly! I can call them or email them, depending on urgency and timing. My implementation manager is the bee's knees, and she has helped me so much!
Want to see what Passare can do for your funeral home?