Spotlight: Spring Grove Funeral Homes
April 19, 2021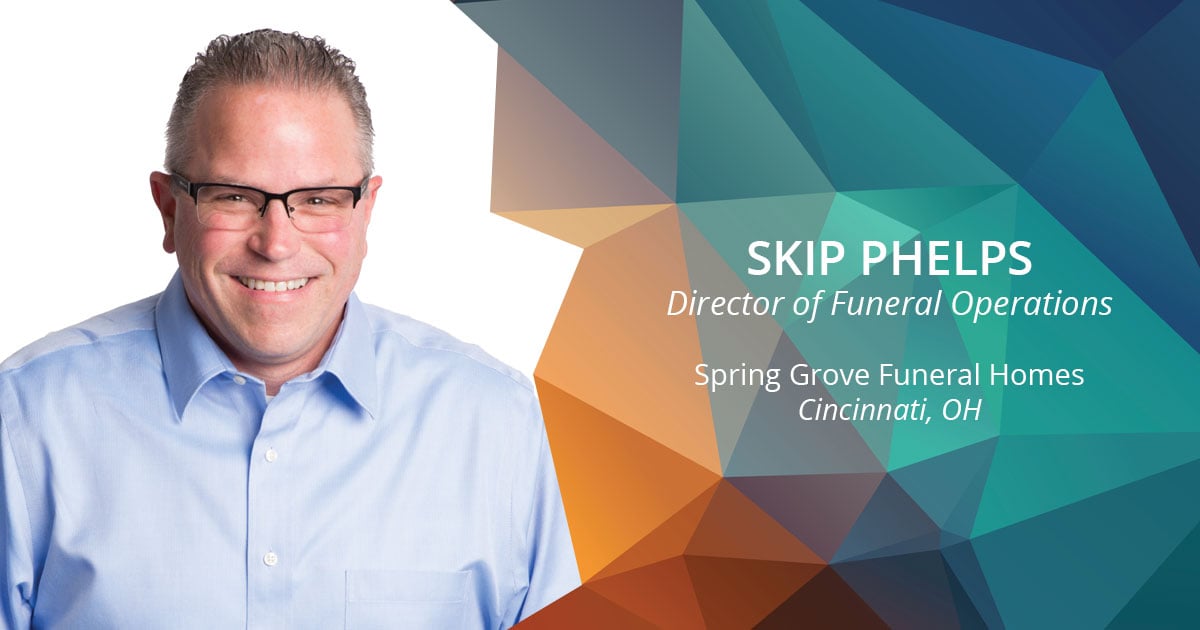 Read all about Skip's experience with Passare and why Spring Grove Funeral Homes relies on Passare's funeral home software for case management and reporting capabilities!
Spring Grove Funeral Homes
Locations: 7 throughout Cincinnati, OH
Call Volume: 1,600 Calls/Year
For more information, contact Skip Phelps at sphelps@springgrove.com.
Skip Phelps, Director of Funeral Operations at Spring Grove Funeral Homes, was no stranger to funeral home software, but he needed one that was more user-friendly. From reporting capabilities and customizations to the updated Planning Center, Passare has met Skip's needs time and time again.
Were you using a case management system before Passare? And if so, how did you hear about Passare?
We were using a different program, but we wanted something that was more user-friendly and had more components to it.
And you likely won't get this answer from anybody else, but I've been with Passare since the beginning! I sat on a focus group in San Francisco when Passare was initially a dream and worked with the developers on testing. We're very happy with Passare and are thrilled to be a part of the continued evolution of the platform.
Wow, that's amazing! So, you've seen Passare grow and develop over the years. What is a feature that you can't live without?
I can't live without some of the customization features, such as the fact that I can set up my own case tags, custom fields, and custom reports. And I definitely couldn't do without Decedent Tracking!
And the new version of the Planning Center is excellent – 100% more awesome than it was before! Families find the platform very easy to use, and they like the resources that are available to them. It's great that Passare allows for resource customization, too.
How does Passare help you manage multiple locations and rooftops?
Well, for management, Passare gives me all the data for all the locations all the time, at my fingertips. As far as a funeral director goes, they can make arrangements for any location from wherever they're at, which is really nice.
During the pandemic, we did a lot of virtual arrangements. The management team made sure to provide laptops to funeral directors who didn't have computers at home so that they had Passare at their fingertips. And they walked through the arrangement process with families just like they would have if the meeting was in person.
That's really innovative! Has your reporting become more efficient with Passare?
Yes, I can see everything at a glance. With reporting, Passare has fixed anything that wasn't functioning smoothly. I'll give you an example: I needed a report that had all these different columns, but the software was not set up to give me that report. Someone on the Passare team created exactly what I needed! Before, I was having to pull two different reports to get the report that I needed. Now I just pull one. It makes a big difference. Plus, my administrative support staff have automatic monthly reports that go to their inbox every month. It saves time when we don't have to manually pull reports.
How would you rate the customer service or support that you have received with Passare?
On a scale of one to 10, a 10. I reach out via email, and it's also nice to be able to pick up the phone and call if I need assistance. I've worked with the same people over the years who know Spring Grove's processes, so it's nice to be able to reach out to them directly.
What would you tell another funeral director of professional about Passare?
When I train people on Passare, I always say, "If you know how to fill out paperwork, you can use Passare." Passare has a bunch of windows with the same forms that you fill out when you handwrite them. Only with Passare, you don't have to deal with writing and scanning, and you can be more collaborative with families and more efficient. Plus, with preneed and website integrations, you enter information once, and it shows up in many places. So, I would tell them they need to give Passare's software a chance because they would find that it's easier to use than they may think.