Improving Funeral Home Processes with Passare: A CEO's Perspective
October 24, 2023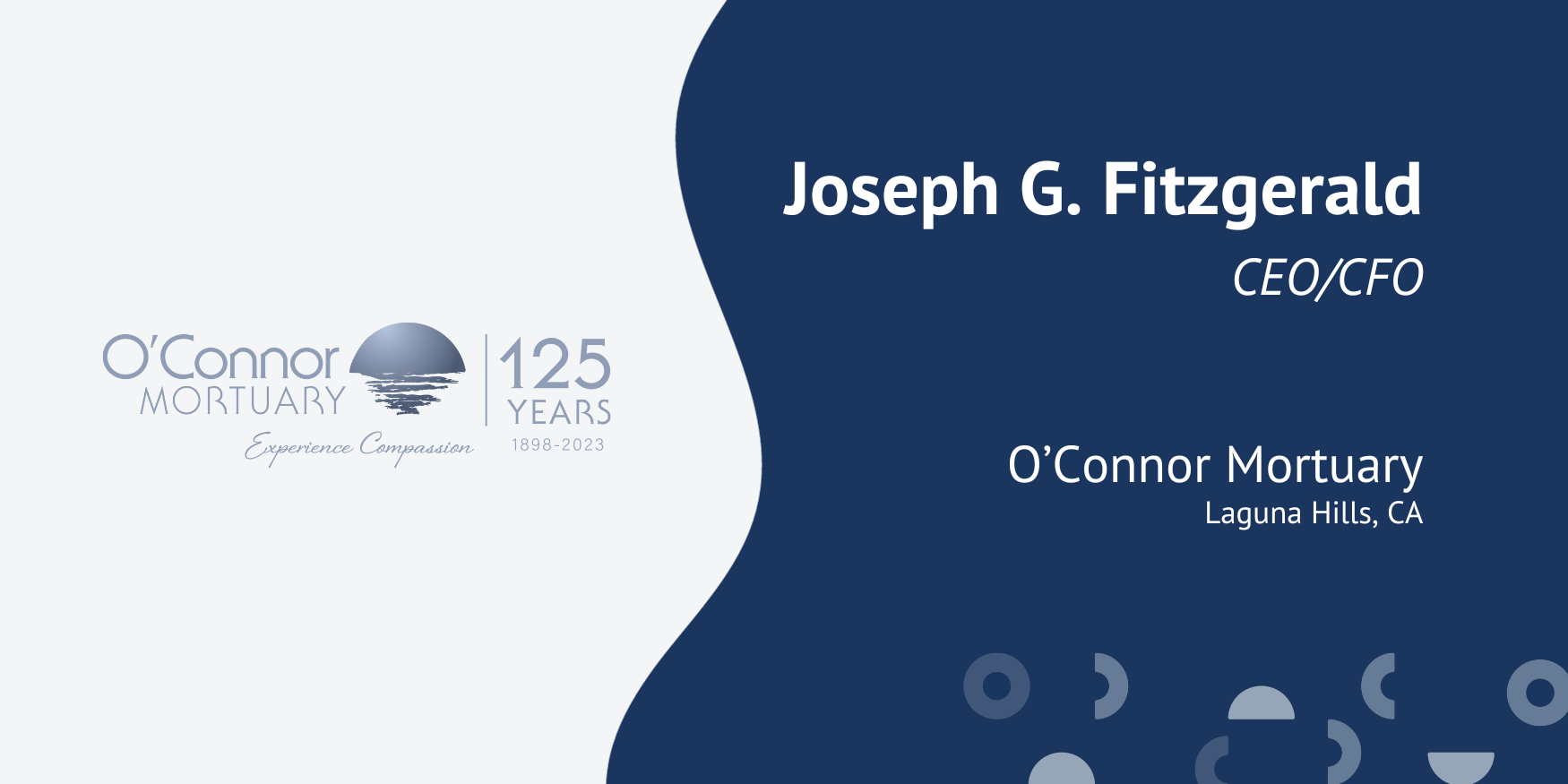 Joseph Fitzgerald, CEO and CFO at O'Connor Mortuary, was searching for a software solution that could keep up with the pace of his business.
Tired of being slowed down by software, Joseph knew it was time to make a change.
Passare was just what he was looking for!
With Passare, the staff at O'Connor Mortuary is able to save time on data entry, improve internal communication, and use their software to the fullest.
Joseph shares why he switched to Passare and how the software has helped him improve processes.
How long have you been with Passare?
We've been with Passare since 2018.
What were the challenges you were facing in your business before you used Passare?
One of the biggest challenges for us before finding Passare was that our previous software was specific to Windows operating system. To access the old software on our computer, we had to launch it out of a remote desktop location.
Before Passare, if we didn't have internet access (and sometimes even if we did), we would have to go through a remote desktop application. It wasn't ideal.
On top of that, our old system was, for lack of a better word, a little clunky. It simply didn't flow in a way that a funeral home owner would enter information or complete tasks.
Lastly, the software wasn't designed by funeral professionals. So, when we would make suggestions or requests for improvements, their common response would be:
"Well, no other funeral homes are asking for this."
How did Passare help you address these challenges?
When Passare came to us and said, "This is truly web-based software," that was pretty attractive to us.
We knew that with web-based software we could tap into Passare anywhere we could access the internet.
In addition to being easily accessible, Passare provides a single-point entry system for information we put into the platform. Everything just flows so much better with Passare. And I think that's due to the fact that Passare, unlike our previous software, was originally designed by funeral home owners, so it flows with our workflow so much better.
When was the moment you knew you wanted to switch software?
So, it was really a culmination of the things I've mentioned so far. But one of the final things that prompted me to switch was when I learned about the improvements we could make on the accounting side.
In 2018, we used an accounting service company that worked closely with our former software provider.
When we considered switching to Passare, I went to our accounting service rep and said, "I'm looking at maybe making a switch to Passare, do you have any clients who use Passare?"
Our rep came back and told me he did, and that it was so easy to work with Passare. That got my attention.
And I've seen how easy it is myself now, using the export capabilities of Passare to Quickbooks. It's just easier.
What has been your overall experience with Passare?
It has been great. From a relationship standpoint, the team at Passare is aligned with our values as a company, which helps so much.
They are constantly striving to grow, develop, and improve processes.
And that's one of the things we really try to do as a funeral home. Our goal is to continually progress and keep up with the changes in funeral service. One way we can do that is in how we operate and by continuously challenging ourselves to be more efficient.
We appreciate that Passare is much more aligned with how we want to do things.
What are some specific features you love about Passare?
Forms have been amazing. Once we enter in case details, Passare uses that information to then auto-fill our forms for us.
We've also utilized Notes and the ability to tag others for communication. One thing we strive to do is have a note within a profile of everything that happens. And with Notes, we've improved our ability to provide 5-star customer service.
How exactly has Notes helped you improve comunication internally?
Notes allow anyone on our staff to answer the phone and inform the family if the funeral arranger is unavailable.
For example, if I call a family and leave a voicemail, I would make a note:
"Left a voicemail regarding clothing drop off that needs to be done."
Suppose the family calls back and someone other than me answers. In that case, they can go into the loved one's profile, read the notes, and keep the conversation going with the family.
Having this as part of our system allows our team to provide a higher level of customer service.
If you're doing a good job with notes and tagging other staff members, it is a huge help in avoiding miscommunication.
What's been your experience using the barcode tracking features in Passare?
As soon as the decedent enters our facility, they get a barcode, which becomes part of their identification. Then, every time we move that person, we can scan their barcode to see where they're going next or what part of the process they're in. It has been very helpful.
We even use it for urn handouts. We take a picture of the urn with our iPad, and when families come in to sign for it, we use that photo to ensure everything is correct. We also use it similarly for death certificates or personal effects.
Before Passare, we had our own process for chain of custody, mainly in Excel. The main difference is back then, it wasn't documented in our software program. Barcode tracking has been excellent because if we ever get into a situation where we have to provide proof that an item was signed for or who signed for it, it's all there within the system.
Anything else you'd like to add?
Being the Chief Financial Officer of our operation, I can also recommend Passare from the accounting side.
We're using the CLAIMCHECK integration, and that's been a huge plus for us. Additionally, one of our consultants Graystone Associates, is integrated with Passare. So, when we implemented Passare, we created a special report for our revenue tracker with Graystone.
This integration in Passare helped us reduce the time it took us to do a revenue tracker report. It used to take a full day to enter all the necessary information, and now we can create the report in less than an hour.
We just export that data from Passare into a format we can copy and paste into Graystone. This has saved us a day or two of time.
Would you recommend Passare to a colleague?
Absolutely! For all the reasons I've stated, I would definitely recommend Passare to another funeral home. It's a powerful tool. Not only does it have all the information you need on what's happening with the family, but also because it's a tremendous communication tool for your team to use internally.
I would also recommend Passare because of the responsiveness of their team. They take our feedback and are always striving to improve the program, which is valuable.
In short, working with Passare has been awesome.
About the funeral home:
O'Connor Mortuary is a traditional funeral home that has served families for 125 years. Last year alone they served just under 1300 families.
They also own and operate Pacific Cremation Services, their cremation brand, that served about 400 families last year.
Both companies are based out of Orange County, California.
Want a success story like Joseph's? It all starts with a demo.