Spotlight: Arpp, Root & Carter Funeral Home
January 21, 2021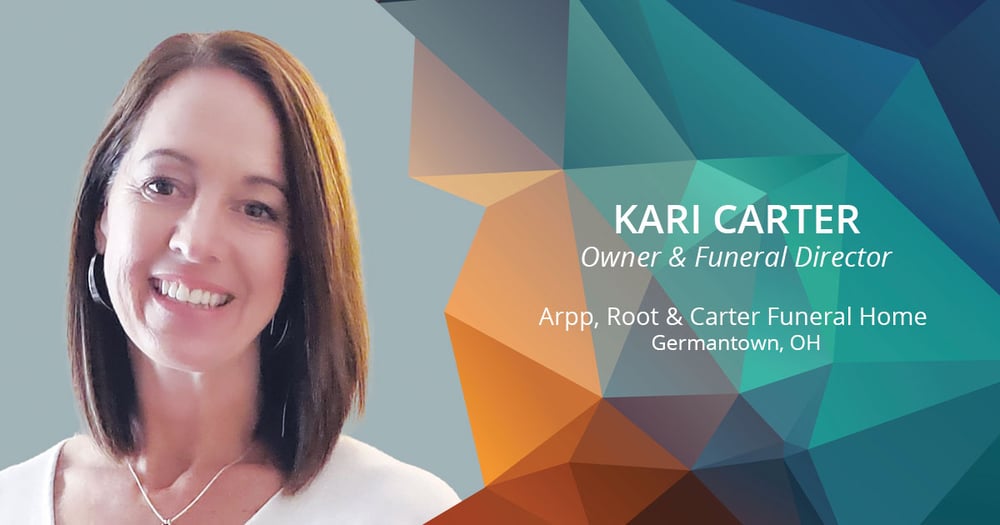 After Kari was introduced to Passare, she gained a much-needed virtual checklist solution, a management system with record-keeping tools, and more!
Location: Germantown, OH
Call Volume: 50-60 Calls/Year
For more information, contact Kari Carter at arpprootfh@outlook.com.
When Kari Carter, owner and funeral director at Arpp, Root & Carter Funeral Home, purchased the funeral home in 2018, she knew she wanted an online option to help her keep track of checklists so that she could stop using paper files, folders, and handwritten notes. After Kari was introduced to Passare, not only did she find her virtual checklist solution, she found a management system with record-keeping tools and a customer service team that treated her like their most important call of the day.
Describe your process of managing cases before you implemented Passare.
I worked very closely with my stepdad before purchasing the funeral home in 2018, and we used a computer system for our invoicing, but as far as managing cases, we used file folders. Each case had a folder, and on the back of the folder, there was a checklist. I kept track of everything on that folder's checklist. For instance, when I would order a vault, I would initial and date the checklist on the folder when it was completed.
Very few things were done online because my stepdad wasn't used to that process. He always called to order his caskets and vaults. Once I started working, I said, "You know we can do all of this online, right?" So, we started placing vault and casket orders via the internet. Some time later, I said, "We need a checklist online. Is there a program we can use to keep track of records instead of handwriting all this stuff and having to find the folder every time we need to do something?" Shortly thereafter, a representative at Funeral Directors Life introduced me to Passare, and I haven't looked back!
Once you implemented Passare, what were some of the benefits you noticed right away?
First, I like that Passare is cloud-based so that I can be on the go. I'm the only full-time employee, so I'm sort of a one-woman show. If I'm out someplace, having the ability to pull up information on my phone is a lifesaver. I like the fact that I can upload documents, such as insurance assignments and copies of death certificates, and access them online so I don't have to go digging through folders. Everything I need is right at my fingertips.
Other benefits are the reminders, record-keeping, and being able to modify checklists whenever I need to. One time, I had a case where a woman passed away, and her husband died a few weeks later. When I was meeting with his family, it was so nice to be able to go in and look at his wife's information while the family and I were planning his service. It made the interaction that much more special.
There are things about Passare that I have yet to learn that I'm sure are beneficial because there are so many things Passare can do. For instance, I'm looking forward to using the Planning Center and seeing how that can help my families and me.
How has Passare helped you increase your efficiency?
Passare is a one-stop shop; I enter everything into the system, and all the information auto-populates everywhere else. Also, I don't have to look for a folder every time I go to do something; it's all there at the click of a button. I can write notes, set reminders for myself, and work through virtual checklists! It's so efficient because if my sister-in-law, my mom, or someone else comes in to help, they don't have to locate a folder and read through a bunch of paperwork to see what needs to be done or track down how much is owed on an invoice. They can just look up the name on Passare, view the checklist, and see what else needs to be done. It's easy!
And I love the little support tab on the side. There are times I'm like, "I know there has to be an easier way to do this," so I click the support tab, which takes me to my answer. The fact that it's easy to use is the best part. I don't have to waste time tracking down an answer.
How would you rate the customer service that you've received from the Passare team?
Passare has the best customer service ever. Sharaie was the one who got me started with Passare, and whenever I have a question, I'll call or shoot a message to her and say, "Hey, can I get training on this?" Even if it's not something that she does, she'll direct me to the right person and give me their contact information. Then, she'll follow up with me a few days later just to check in and say, "Hey, did you get that taken care of? How are things going? Do you need anything?" The customer service is awesome. I rarely even have to call and ask for anything because somebody is always following up with me to see if I need anything, without it being overkill. Every phone call or email is always pleasant and prompt, and everybody is so nice and helpful. I cannot say enough good things about the customer service.
What would you tell another funeral director, professional, or owner about Passare?
It's worth every penny. If larger funeral homes have doubts, I can say that I've seen the value of it, and I'm a small funeral home of 50 to 60 calls per year. I couldn't imagine having a rush like I had this past month and not having Passare to keep me organized. I can only imagine the many benefits a large funeral home with multiple locations can have with Passare. They would be enormous.