Spotlight: Clock Funeral Home
August 23, 2021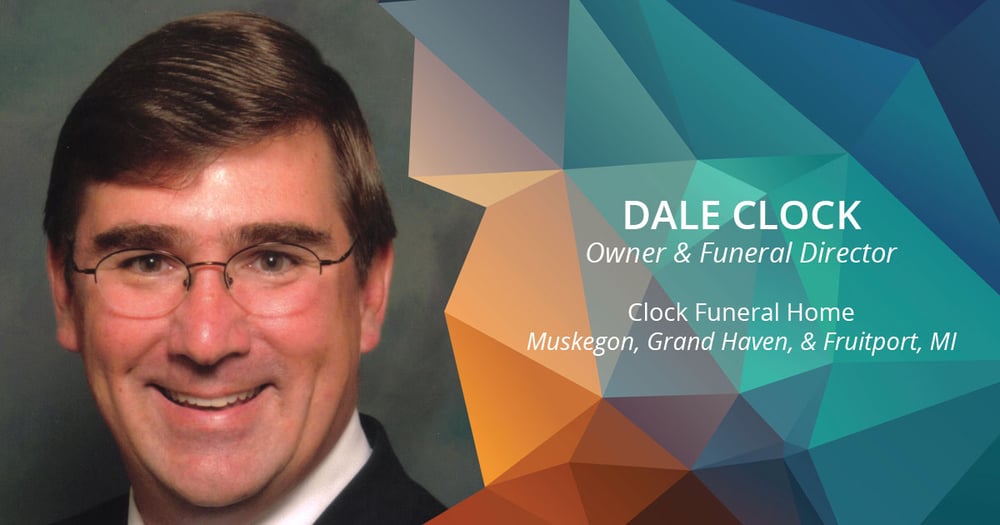 Owner Dale Clock knew he wanted cloud-based funeral home software, but he was also impressed with the integrations and timesaving benefits of Passare!
Dale Clock
Owner & Funeral Director
Clock Funeral Home
Sister Companies: Phoenix Crematory Service, Clock's Sunset Celebrations, & Clock's Timeless Pets
Muskegon, Grand Haven, & Fruitport, MI
Call Volume: 400 Calls/Year
Wanting funeral home software that was cloud-based, Owner Dale Clock started researching some options, ultimately choosing Passare. After some trial and error with the platform, he and his staff decided on an Adoption Plan to learn the ins and outs of the platform through personalized training. Dale is happy with the organizational tips he has learned to save time and be more in sync with his team.
What made you want to switch your funeral home software to Passare?
We've been computerized for 35 years and have had probably four different case management systems throughout that time. When it became time to upgrade our former software, we began researching funeral home software options to see if there was another program that had features that we liked. Our previous software was not cloud-based, so switching to Passare seemed like the best fit for us.
Why did you decide to do a Passare Adoption Plan?
Initially, we started using Passare on our own without any specific training. We learned by trial and error and by watching some of the videos posted on the Support page, which helped us get some processes up and running. After 18 months of working with Passare, the Passare team approached us and said, "We're putting together an in-depth training program. Would you be interested in doing it?" That's when I thought it might be beneficial to have someone help us figure out how to use Passare to the fullest extent. So, I signed up for the Adoption Plan.
What was involved in the Adoption Plan process?
We decided on a six-week plan with an on-site visit, and I worked with the Passare team on topics to cover each week. I'd meet with the trainer to talk about what I felt my staff needed, and then we would schedule a staff training with everyone. Staff at multiple locations needed training, and the Zoom training sessions meant many people could be on at the same time, ask questions in real time, and get more comfortable using the platform in a new way.
That's great! What do you think has been the biggest benefit of the Adoption Plan?
The biggest benefit of this training was the on-site visit. It was great to have someone at Passare come and spend a couple of days here and for us to receive immediate help, feedback, or answers to questions for specific challenges we were having. Plus, once she knew our processes, she was able to tailor the training for our staff. For example, she showed us how to better organize our cases, produce documents, use case types and case tags, and move cases when they were completed.
This on-site training also created a relationship between us and Passare that has continued over the last year. We feel like we know someone personally and don't have a problem with calling or emailing when we need help. All in all, I'd recommend this training to anyone!
Wonderful! How does Passare help you manage multiple locations?
Since Passare is cloud-based, we can all easily see cases from Clock Funeral Home and from our sister companies. Before, when everything was all based on a single computer, we had paper copies that we would fill out at each branch, make photocopies or scans, fax or send them into the main branch, and then someone would enter the information into the computer. Now, our staff can enter information for any of the locations, and we can all pull up and look at the information, no matter where we are.
How has Passare helped increase your funeral home's efficiency?
We're more efficient because we don't have to enter information multiple times into a designated computer. If a case needs updating, I can access that case from any of our locations. We've also saved time on data entry. Passare links to our website, so we can do quick updates of our obituaries straight from our website. We are happy with that more than anything else! Before, we used to have to make the updates in three or four different places. Now we just do it once, and everything's updated.
What would you tell another funeral director or professional about Passare?
Passare is a very well-integrated program. Their staff and the whole company seem to be centered around the director, and they're all very accommodating to our needs. They work with funeral homes around the nation and make the software work best for each organization.
Want to see what Passare can do for your funeral home?