7 Simple Steps to Cook the Best Fried Turkey - Paul Lovelace
November 09, 2023
Hey there! My name is Paul Lovelace, and I serve as the Executive Vice President of Corporate Development at Directors Investment Group (DIG). I love working for a company that serves the funeral profession in so many ways.
Kelly Gilgenbach, Vice President of Passare Sales, told me about the Passare BBQ community in passing one day at the office. With Thanksgiving coming up, I just had to share my traditional fried turkey recipe.
I love cooking this recipe because it's easy and delicious. Plus, it's fairly quick and gives me more time to tune into the Thanksgiving Day football game.

Pictured: The best fried turkey.
Heat up the fryin' oil!
This is not your ordinary oven bird - this Thanksgiving turkey is a Southern classic fried in hot oil.
I cooked a medium-sized bird, but when choosing what size turkey you want, it truly depends on how many people you're hosting (or how many leftovers you want to enjoy later!). If you're expecting between 10-12 people, I would plan for a 15-pound bird.
You're also going to need a fryer that is big enough to submerge your entire turkey in oil. Let's get started!
Ingredients and supplies
15-20-pound turkey
Cajun seasoning (I use Slap Ya Mama)
Peanut oil
Large fryer
Safety equipment
When using this frying method, hot grease easily splatters and spits, so you'll want to make sure you wear the appropriate safety equipment. For more tips on how to get your fryer set up and cook your turkey safely, check out this article. ➡️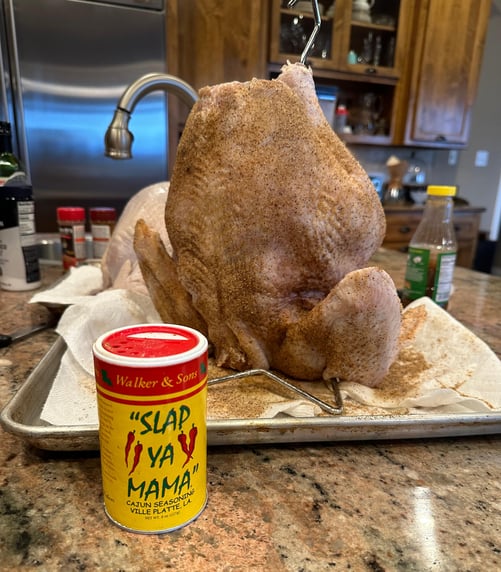 The more seasoning the better!
Cooking Instructions
Depending on how large of a turkey you've got, you'll want to make sure that it is completely thawed out before cooking. A general timeline would be about 2-3 days before cooking.
Prepping the turkey
Take the thawed-out turkey and place it on a baking sheet.
Season the turkey generously with Cajun seasoning.
Time to get cookin'
1. After seasoning the turkey, fill your fryer with peanut oil. Make sure you don't over-fill the fryer to keep the hot oil from overflowing when you place the turkey in.
2. Once you've poured the oil in, turn on the fryer and heat it up to 350 degrees Fahrenheit.
3. As soon as the oil reaches the right temperature, turn the fire off and lower your turkey into the fryer (turning off the fire keeps you safe if any oil does spill over).
4. Once the turkey is in the fryer, you'll want to cook it for about 3 minutes per pound. So, for a 15-pound turkey, you'll want to set a timer for about 45 minutes.
5. After 45 minutes, remove your turkey from the fryer and place it on a clean baking sheet or large platter.
Here's a video of how I removed the turkey from the fryer:
6. Check that the internal temperature of the turkey is 170-180 degrees.
7. Now it's time for the fun part: carving the turkey! Pull out your best turkey carving knife (I use an electric one) and carve your turkey into slices.
Then you're ready to serve!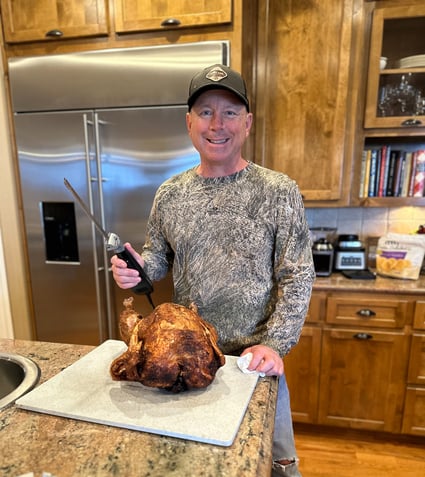 Seriously, the electric carving knife is a game-changer.
You can't have Thanksgiving without side dishes
What would Thanksgiving dinner be without the mashed potatoes, green beans, and rolls?
With this turkey, you can serve all your traditional Thanksgiving sides and more. What I like to pair with it (at Thanksgiving dinner and as leftovers) is an ice-cold Shiner Bock beer. The combination is just unbeatable.
What I love about funeral service
Like I mentioned at the beginning of this article, I love working in the funeral industry because I truly enjoy helping others.
I hope you enjoy this easy fried turkey recipe - and have a happy Thanksgiving!
Join the BBQ community
Join a group of funeral professionals who love what they do, and love to barbecue. Submit your experience here. 👇