Crowd-Pleasing Pork on the Traeger Pellet Grill - Zack Wilson
May 08, 2023
About the cook
I'm Zack Wilson with Butler Funeral Homes & Cremation Tribute Center. Our funeral home has been with Passare for a couple of years now.
I had to enter when I heard about this BBQ giveaway because I wanted to try the famous Perini Ranch seasoning the Passare team is always raving about. 😆
I made a classic shredded pork recipe for this cook on my Traeger Pellet Grill. Get ready to rock your tastebuds with this one!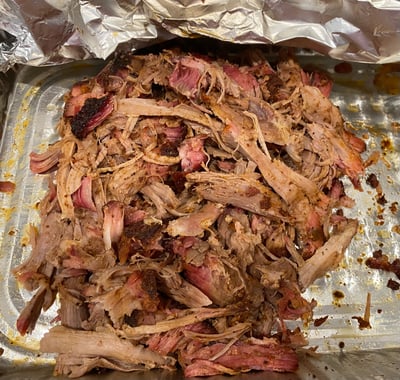 The finished recipe.
Pork that's sure to please
I want to start by saying I love this pork recipe because it's easy and always a crowd-pleaser. Even the kids like it!
I cook a fairly large cut of pork when I make this recipe so the whole family can eat and enjoy leftovers. It's also great when hosting a get-together with friends.
Now, without further ado, here is the list of ingredients you'll need for this delicious pork.
Ingredients and supplies
An 8-10 pound pork butt
Seasoning of your choice (next time I'll be trying out the Perini Ranch rub, but any seasoning will work!)
Injection marinade
Apple juice
Apple cider vinegar
Aluminum pan
Heavy-duty foil
Cooking Instructions
Prep time: 12 hours to marinate the pork overnight.
Start prepping the pork by injecting the entire cut of meat with a marinade of 3/4 cup apple cider vinegar and 1/4 apple juice (I also add a bit of MSG to the solution for a saltier flavor, but you don't have to do this part).
Now, place the marinated pork in an aluminum pan and cover it with plastic wrap overnight in the refrigerator to soak up all that salty, apple-y goodness.
Smoking the pork: 6-8 hours
1. After the pork has marinated for at least 12 hours, take it out of the refrigerator and move it to a cutting board. Score the fat cap deeply to allow the rub to soak into the meat. Season on all sides heavily with your favorite rub. (Seriously, don't hold back. It's all about the flavor!)
2. Now that you've seasoned the pork, it's time to fire up the smoker. Preheat to 225°F to get started.
3. Place the pork butt on the middle of the rack in the smoker and place a temperature probe into the middle of the meat to monitor.
4. Smoke the pork butt for about 6-8 hours or until the internal temperature reaches 160°F.
5. Once the internal temperature reaches 160°F, remove the meat from the smoker and place it in an aluminum foil pan. Spray with apple juice, pour about 1 cup of apple juice into the pan, and then tightly wrap the pan with foil to seal in the moisture.
6. Return the wrapped pork butt to the smoker and continue smoking until the internal temperature reaches 195-205°F.
Rest time: 30 minutes - 1 hour
1. Once the meat reaches the desired internal temperature, remove it from the smoker and let it rest for at least 30 minutes to 1 hour. This allows the juices to redistribute throughout the meat.
2. Sift the juice from the pan through a screen and use the juice to moisten the meat in the next step.
3. After resting, use two forks, or your hands, to shred the pork into bite-sized pieces. Serve with your favorite BBQ sauce (or not - it'll be flavorful enough on its own!) and enjoy!
Some crowd-pleasing side dishes
No barbecue meal is complete without the perfect side dishes. Here are some of my favorite sides to serve with this pork recipe:
Baked beans
Macaroni and cheese
Any potato dish (seriously, mashed potatoes, potato salad, baked potatoes - anything!)
Corn
Green beans
With any of these additions, or your favorite side of choice, your meal is sure to please!
What I love about funeral service
Funeral service is hard yet rewarding work. What I love most about it is being able to help families begin healing from loss. We're the first point of contact in their grieving process, and I always strive to provide an experience that will help them begin to heal.
Join the BBQ community
Join a group of funeral directors who love what they do, and love to barbecue. Submit your experience here.