3 Reasons to Use Barcode Tracking in Your Funeral Home
August 08, 2022
Never lose or misplace an item or body again with barcode tracking technology. Here are 3 reasons why you should be using this system in your funeral home.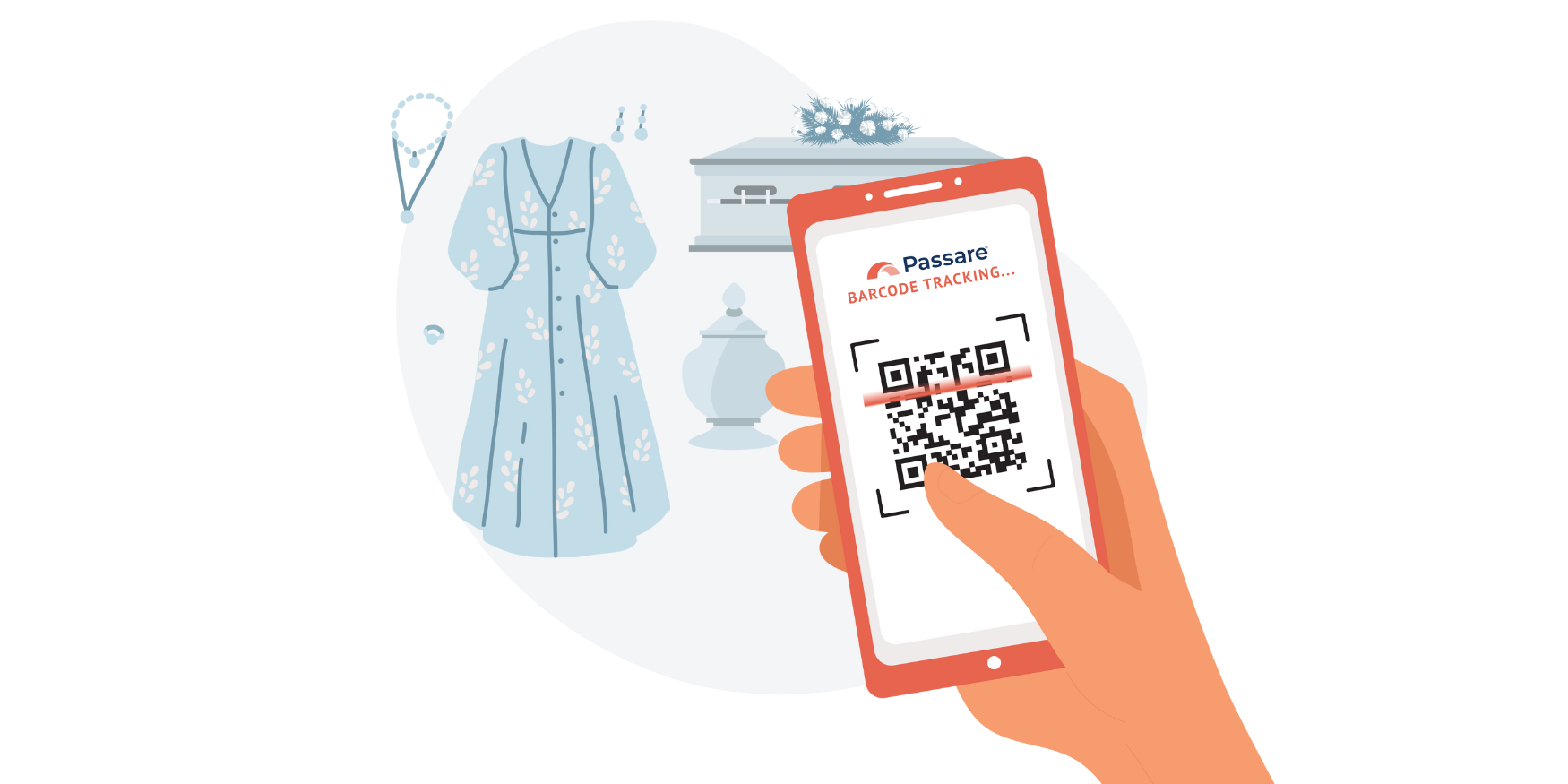 In your funeral home, you must be organized.
Organization helps your funeral home manage cases, keep track of reporting, and so much more. But how you organize items, personal effects, and bodies is more important than that.
If you're not organized, nightmare scenarios can occur, such as:
Cremating the wrong body

Misplacing a body or item

Having to tell the family you lost something important

Breaking the trust with that family
Even if you weren't directly responsible for the action, your entire team would be affected, and the family's trust in your funeral home would be shattered.
There is a way to avoid the devastating scenarios above...for good.
With barcode tracking, you can wave goodbye to the fears and embrace feeling fully confident with every family, every time.
What is barcode tracking?

Picture this: A family decides to cremate their loved one.
You take your clipboard and write down the items on the loved one before removal. You remove everything and write down where you placed those items. Once you have the remains, you check your clipboard to see where you placed the items, but when you check where they should be, they're not there. Someone moved them without telling you.
Now what?
Barcode tracking simplifies the process by allowing you to assign scannable barcodes to each item and tie barcodes to certain cases - no clipboards needed! Best of all? You can do all of this from your phone - a device that you likely have and use every day!
So, now that you know what barcode tracking is and how it works, let's dive into 3 reasons why barcode tracking is more than just a "nice-to-have" feature. In fact, it will make you say, "How did I ever live without this?!"
1. Keep track of everything
The tried-and-true method of pen, paper, and a clipboard worked for decades to keep up with bodies and items in the funeral home. But as we mentioned before, using a method that doesn't update in real-time leaves room for error.
Think about it: was there ever a time you missed an important location change of a body or item because someone (or you) forgot to update it on paper?
Barcode tracking helps funeral directors rely less on pen and paper and start relying on up-to-date information that can be tracked from a phone. Anything from wedding rings to clothing and other specific belongings can be tracked easily and accurately. Plus, many barcode tracking systems give you the ability to leave notes or add pictures to personal items so that your entire staff knows all the details and location of everything in the funeral home.
Barcode tracking also helps you view the location of every item and body across different funeral home locations, all in one place. You can even get more detailed and assign scannable barcodes to locations such as prep rooms, viewing rooms, refrigeration units, and urns or caskets.
With our barcode tracking system, you even track disposition type and get access to vital tracking information anytime, anywhere, using any device. The family can even sign for the pick-up on your phone and verify that they've received the items.
2. Stay in tune with your team
Barcode tracking improves communication with your entire staff! You wouldn't want a team member to move something to a different location without telling you, just like you wouldn't want to accidentally move something that another staff member needed to grab for a family.
Tracking in Passare allows anyone on your team to change the location of an item, add new items or notes, lock items when they've been picked up, attach images, and more. And your team will be able to see those changes in real-time so the whole team can feel confident.
When your team feels confident, your family feels confident!
"Before this Decedent Tracking feature, we were using pen and paper and relying on everyone's word. With Passare's feature, there is no guesswork. The app provides the most up-to-date information about any case that anyone on the team can see at any time, including detailed notes and a chain of custody."

Ricky Mansfield, Miles Funeral Home in MA
3. Give families peace of mind
When a family relinquishes control of their loved one, they're completely trusting you to take care of their loved one's wishes, their body, and their personal effects. You already know they're relying on you, the expert, so you can give families peace of mind about the transfer process with up-to-date tracking.
Plus, if a family calls about an update or an item, you can view the app for the most recent information and let them know right away, without having to say, "Let me check on that and get back to you."
Being able to be transparent with a family can improve trust tenfold! It will also ensure that you are offering the highest standard of care to the families you serve.
BONUS: With Passare, barcode tracking is convenient and easy to learn!
From new employees to veteran funeral directors, anyone can learn how to use Passare's Decedent Tracking app. If you know how to text and take pictures, filling out information and uploading photos on the app are easy tasks. Plus, anything entered into the app is automatically synced to the case on the Passare platform - no retyping necessary!
Best of all? The app is free to download in the App store and Google Play store.
"I've tried many other software platforms, and I could never find one that was better than Passare."
Get a demo to learn more about Passare and how it can help you better manage your business by filling out the form below.