3 takeaways from ICCFA 2023 (that you'll actually learn something from!)
May 19, 2023
Written by Sharaie Heizelman, Account Executive at Passare
Whew! After 4 days, 37 breakout sessions, and many hours spent at the expo hall, ICCFA 2023 was an exciting whirlwind of a week.
If you're like me, you probably returned home feeling inspired and ready to implement all the new ideas you learned at the convention.
There's just one problem…
After such a busy week, you might not be able to remember all of them.
That's why I put together this short recap with 3 major takeaways from the week. Hopefully, you'll be able to look back on (and remember) some highlights from ICCFA 2023 - and maybe even learn something new.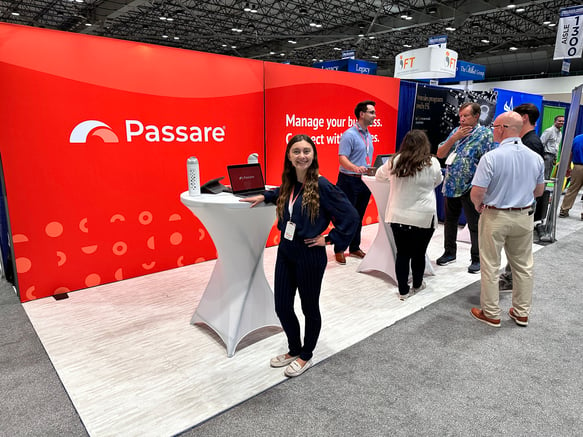 #1: A defined strategy and business goals are more important than you think.
When you work in a profession as busy as funeral service, most days you're moving as fast as you can to get everything done. And after a while, it's easy to fall subject to burn out - leaving you unmotivated and wondering, "Why am I working so hard every day? Where is my business going?"
Vincent Roberge with Johnson Consulting Group led an entire breakout session on Interactive Strategic Planning and how planning ahead can help you achieve your business goals and reach success.
But wait - if you're just trying to stay afloat, how can you have time to sit down and make the strategic plan?
While it may take you some extra time, sitting down and coming up with a strategic plan is more than worth it. Here's why:
Thinking about the goals you want to achieve will help you identify where you're going

Creating measurable goals for you and your team will show you how you'll get there

Having defined goals will be a good reminder of why you do what you do and keep you motivated when you start to feel burnt out

Lastly, strategic planning will help you develop sustainable growth for your business
Whether your business has been open for a year or 20, now is the time to sit down and make a plan that will help you achieve your business goals.
#2: Here are some positive effects of diversity in the workplace you might not know about.
Over the last few decades, diversity in the workplace is something many companies have strived to do better.
During Carmen Best's ICCFA keynote session, she talked about her journey to becoming the first African American Chief of Police at the Seattle Police Department, recruiting more than 40 officers of color, and the different lessons she learned along the way.
Diversity brings a lot more to the table than some might realize. These two positive effects of a diverse workforce from Carmen's presentation stuck out to me:
Including diverse backgrounds and demographics in your workforce is a way your business can represent your community. With representation from different demographics, your team can better relate to your families.

Have you ever heard the saying two brains are better than one? When it comes to diversity in the workforce, this statement rings true! Having different viewpoints and perspectives is what will help your team come up with the most creative and unique services to families.
Hopefully these insights from Carmen's session will help you think about diversity in your workplace and how important it is!
#3: Every family you serve is unique and different - but there's one common factor in all of them.
You know better than anyone that each family you serve is different from the next. But there's one common factor in all of them: each one is impacted by you.
The question is…what type of impact are you having?
If you attended ICCFA this year, you might have flown to Kansas City or driven. And as you traveled, you likely encountered many people along the way.
Did you smile at the gas station clerk when checking out?
Did you greet your flight attendant with a friendly, "Hi, how are you?"
Or did you get caught up in your own thoughts - forgetting to give a simple smile?
We all have bad days (sometimes weeks) when we don't feel like being nice or patient. But you set the tone for the experience they will have, which means you have the opportunity to make a huge impact on each family! And that impact will reach their children, their spouse, and their friends.
That's why it's so important to make that impact a good one.
Keep this as a motivator on the days when you're not feeling up to smiling or laughing. Your families will thank you.
#4: Bonus takeaway - Don't overlook cover bands.
The Eagles cover band concert was so good.
They were so good, it left us (and probably many others) on an Eagles kick, and we're not mad about it.
So, we thought we'd link this instrumental guitar playlist with 45 minutes of Eagles hits you can listen to when you're working away on case files, combing through sticky notes, or just cleaning up after a long day. You can listen to it here on Spotify.
Or if you're one of those that feels that nothing beats the original, here's a curated Eagles playlist with all the hits: This Is Eagles Spotify Playlist.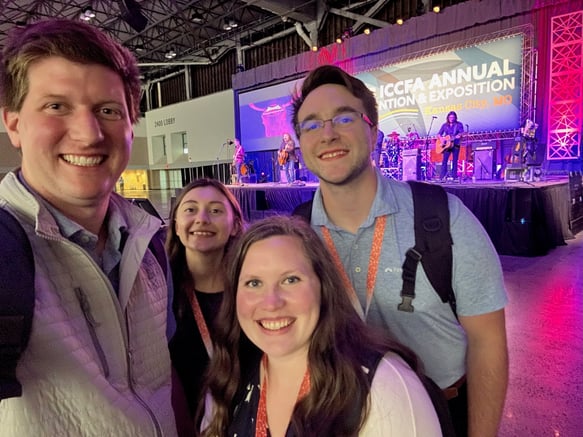 Our team at THE ULTIMATE EAGLES EXPERIENCE concert.
P.S. Next year, ICCFA will be in the sunny (and very humid) Tampa, Florida on April 10-13. Mark your calendar NOW for next year's convention to learn about all things deathcare, network with colleagues that will soon turn into friends, and see exciting new services available for your funeral home.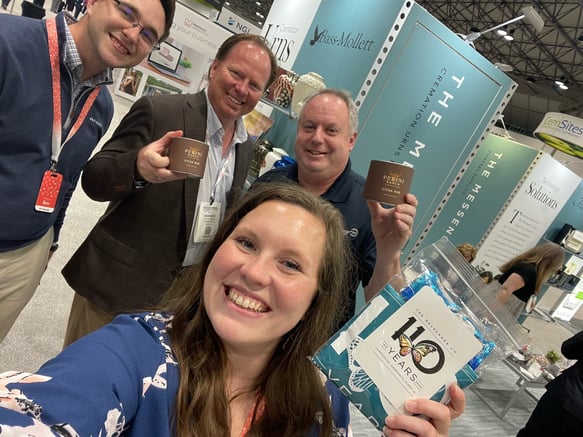 Kaley and Ben with our friends from The Messenger Co.
If you missed us at convention, you can still meet with us to learn how Passare can help you save time on paperwork, manage your business and connect with today's families. Fill out the form below to book a time!