Myth vs. Reality of Funeral Home Software: Losing that Personal Touch
December 10, 2020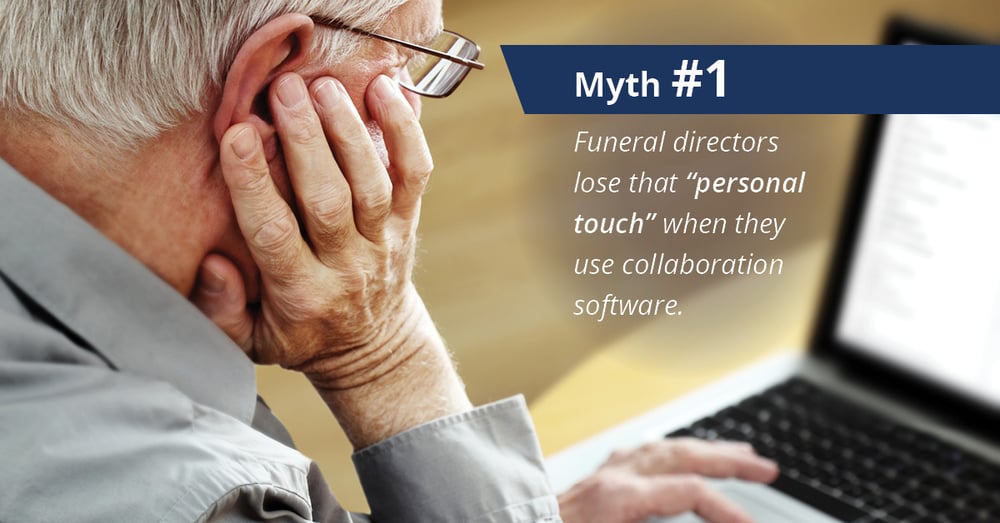 With technology being more accessible than ever, more families prefer a digital experience and a personal interaction with you. Give them the best of both.
By Chris Gomez, Director of Product Marketing
Your families are changing.
In the past, when families planned funerals, they wanted face-to-face interactions with you, the expert. But with technology being more accessible than ever before, more of today's families prefer a digital experience and a personal interaction with you. Families appreciate the option to plan online and/or the option to come into the funeral home. This blended approach is the reason why collaboration software exists in the first place, but not all funeral home software is created equally.
Addressing Misconceptions
In my "What is Collaboration Software?" article, I explained why it might be time to give collaboration software a chance, especially since there are so many benefits. Technology solutions help you save time and help you connect with families in the way they prefer. But the reality is some funeral homes are struggling to implement the right technology in their funeral home, and those who are not looking ahead and considering the needs of the families through technology will be left behind.
There are a lot of misconceptions out there about using software in a funeral home, and I am here to discuss these concerns and shed light on the truth, backed up by data from hundreds of thousands of at-need cases in Passare. That said, let's address the first myth!
The Myth: Funeral directors lose that "personal touch" when they use collaboration software
"Isn't this impersonal?" is a question we've heard a lot. The question is almost always followed up with, "Families need face-to-face, personal interactions with funeral directors during difficult times. Software will undoubtedly replace those genuine conversations."
After hundreds of conversations with funeral professionals, this is the number one concern, and we get it. When families are going through something serious, they need the support of funeral staff to guide them through the funeral process.
While we understand the concern, no software can replace an empathetic and compassionate funeral director! We know that funeral homes and their staff are essential and irreplaceable. We also know that in order to reach tomorrow's consumers, you may have to shift processes a bit.
The Reality
Let's be honest: 2020 has been the year of change, especially in the workplace. People are still working remote to this day, families are traveling less, and regulations might still be preventing your funeral home from returning to "business as usual." And like I mentioned at the beginning of this article, your families are changing. It's no longer a matter of, "will my families be affected?" It's "when will I begin to meet more families that prefer a blended experience?"
Yes, one would lose that personal touch if a funeral director used software to completely replace face-to-face interactions with families. That's why collaboration software should be used second to in-person conversations. In short, software should be used to help you save time and provide that blended experience to your families.
Not only that, collaboration software can make your job easier because you don't have to worry about proximity. You can work with families from anywhere and give them access to the documents in their loved one's case. You can tell them "yes" when they ask for more time to think about the funeral or memorial service, especially if they want to talk in the comfort of their own home. Families can follow along with checklists to ensure they know the expectations for the planning process, and they can lean on you for support through the grief process.
How the Planning Center Helps
The goal of the Planning Center is to give you a tool to help you do your job even better. In fact, from the color scheme to the intentional questions, the Planning Center isn't just another piece of software. We designed it to feel like an extension of you, the funeral director, and families love using it! In fact, 48% of families who receive an invitation from funeral directors to collaborate online login to the Planning Center to start collaborating!
With the Planning Center, you can gather signatures electronically instead of emailing and printing forms, upload documents, customize checklists for families, and offer families a guided experience the whole way through. Plus, with those administrative tasks completed online before the arrangement conference, you'll have more time to talk to the family about the loved one and focus on truly personalizing the service!
Join me next week where I'll cover the second myth surrounding collaboration software: families don't actually like planning online.
See the Planning Center for yourself!

The Collaboration Software Series