Passare Announces New Enhancements to eSignatures Feature
November 14, 2023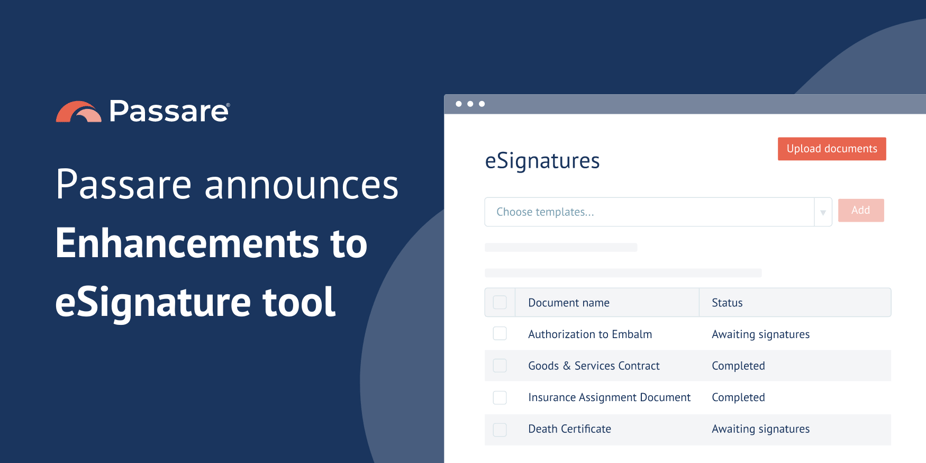 ABILENE, TX - November 2023
Passare is excited to announce the release of a revamped eSignature tool housed within their case management software. Funeral directors can edit and send forms straight from Passare to a family and receive digital signatures in minutes, rather than waiting days or weeks.
"During the pandemic, funeral homes needed a way to gather signatures digitally," stated Josh McQueen, VP of Product and Marketing at Passare. "We quickly adapted by creating our first version of an eSignature tool. Over the last few years, the landscape of business and funeral homes has changed, so we improved our tool to give it even more flexibility and usability."
Passare's form library consists of over 1,000 forms to choose from when requesting eSignatures. New enhancements to the feature allow users to create forms specific to a case with editable fields and checkboxes and send multiple forms at once.
"Our previous eSignature solution met the basic needs of our customers but didn't have the functionality to replace something like DocuSign. Our upgraded eSignature tool can," said McQueen. "Now, funeral directors can easily gather signatures without having to reupload forms or resend them to families because everything is all in one place. It saves funeral homes money because they don't have to pay for a third-party tool outside of their software anymore."
Passare has also built a more user-friendly layout to make the tool easier to use for families and funeral directors alike.
Another addition is the ability to fill out forms automatically with our autofill feature, which means funeral directors sign once and click to add it to any remaining fields.
"Having a complete eSignature tool in Passare is a game-changer for our funeral homes," continued McQueen. "It's really the full package. I'm excited for our customers to experience the convenience of having full eSignature capabilities within the platform."
To learn more about this feature, visit www.passare.com/esignatures. For more information about Passare's case management software with built-in family collaboration tools, book a demo at www.passare.com/request-a-demo.
ABOUT PASSARE:
Passare is award-winning funeral home software with tools to ​help you manage your business and connect with families online. With access to cases 24/7, you can get more done. Plus, save time with dozens of integrations, get unprecedented visibility into your business with outstanding reporting, and enjoy the support you need to succeed every step of the way. Ready to see all that Passare has to offer? Get a demo at https://www.passare.com/request-a-demo.