Passare releases NEW mobile beta app
July 25, 2022
People carry cell phones everywhere. In their pocket, their purse, on the dashboard of their car, or in their hand. Not only do we take them everywhere, but we use them for just about everything. You may even be reading this on your phone right now.
As a funeral director, you're attentive to your cell phone just like anyone else, but you don't have access to apps that allow you to do business from your phone. Many funeral home softwares either don't have a mobile app, or don't have the ability for you to see cases on anything other than your work computers. When you're constantly on the go, it can be hard to do the best job you can without all of the information you need.
What if you could carry case files in your pocket, like your cell phone?
Passare's new mobile beta app makes this a reality. We've taken the meaning of 'anytime, anywhere' software use, to a whole new level. Here's a little bit about the app:

What is 'beta'?
Let's start by explaining what 'beta' is:
A 'beta' is when a company releases a product to a group of people to gather feedback and insight into the usability of the new product. So, why did we decide to release a product before it's completely perfect? Well, it all boils down to one thing: our product team's ability to create the perfect app for funeral directors.
With your feedback, we can tweak features and create new ones that are the most helpful for funeral home businesses everywhere.
The mobile app today
We've launched the app with features that can help your staff streamline case management and improve customer service. Here's what you can use now:
1. A new, easier way to sign in
Our app is secured with an email and password sign-in feature. But, who wants to type their password every time? We didn't think many people would, so we added Face ID for easier sign-in. This saves you the time and hassle of entering your information - or remembering your information - each time you sign in.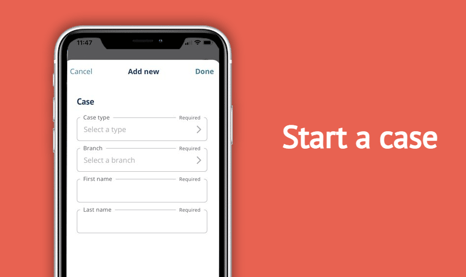 2. Start a new case
Easily start new cases by filling out case type, funeral home branch, and entering the decedent's first and last name. Not only that, it automatically syncs to Passare desktop without you ever opening your laptop.
3. Pin cases to keep them front and center
Pin cases to the top of your lists for quick edits. When you open the app, your pinned cases appear first, allowing you to access current cases easily and quickly. No need for endless scrolling or searching to find a case you're working in.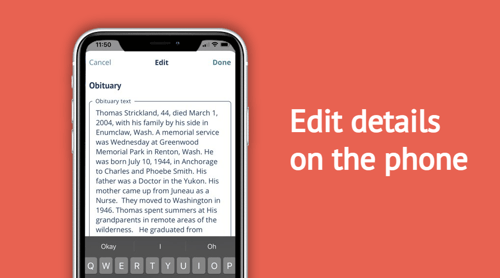 4. Edit details on your phone
With your phone handy, you can easily make edits to a case in the app. Add vital statistics, make edits to personal information and even begin writing the obituary. That way, by the time you get back to the funeral home, your notes and edits are already in Passare.
5. Every case gets a home page
As a funeral director, you keep a busy schedule and it can be hard to remember everything about a case on the spot. This can be frustrating, as well as awkward when the family is sitting right in front of you. We've created a way for you to see case information quickly. Once you click on a case, you can see:
name of the decedent

progress status

case ID

assigned funeral director

creation date

case type
6. Automatically syncs to desktop
Everything you do in the app syncs back to Passare desktop. This means that no matter what device you're working on, information entered on another device will appear. For example, you might enter information from a first call on your cell phone but want to continue working on the case when you get back to the funeral home via desktop. Everything you entered on the app will be on the computer when you get there.
Download the app today, and start case management on the go. New to Passare? See a full list of features by scheduling a demo.
What's Next
These features are awesome, but this is only the beginning. Many features are being created to continue making your job easier. Here's a quick sneak peek of what our team is working on now:
1. Add notes to a case
Families often make specific requests when planning the funeral service. We're adding a way to make notes when working in a case so you can easily find and remember the notes you took during a meeting. Once you add case notes, they'll appear in the case summary on the app.
2. Tag and leave comments
Passare desktop has several different features to help your team collaborate and communicate better, and we're working on adding these to mobile. Your team will be able to leave notes and reminders, as well as tag other employees on a case to make sure that tasks get completed.
3. Push notifications
What good is a reminder if someone never sees it? We're enabling push notifications so you and your team can be immediately notified when you've been mentioned in a comment on a case file.
4. Decedent Tracking
Barcode tracking helps funeral directors keep track of everything. Currently, Passare has a decedent tracking app that has helped countless funeral homes keep track of bodies and personal items. Right now, decedent tracking is offered in a different app, but we're working on adding it to the Passare mobile app.
If you're new to barcode tracking, read 3 Crucial Reasons to use Barcode Tracking in your Funeral Home to learn more.

Get the app today
Passare's new mobile beta app is for funeral directors who want to increase case management efficiency and enjoy using new technology. Being able to start and edit cases from your cell phone opens the door to using Passare anytime, and anywhere.
Interested?
Watch our mobile app webinar led by the product team to see more details, or download the app today to get started.