The New Funeral Consumer: Dead-Enders
May 15, 2020
By Josh McQueen, Vice President of Product
Change is inevitable in the funeral industry, and now, more than ever before, we are seeing a shift in society. These "Forces of Change" were the central focus of a series of articles, which included: the technological revolution, dispersed families, society's limited experience with death, and shifting religious views. You've no doubt experienced this societal shift in one way, shape, or form in your funeral home, and you have probably encountered a new type of funeral consumer, too. I understand it can be a challenge to adjust to society's changing trends, and you may be worried about how to serve the changing consumer. In this blog series, I will explain the behaviors of these new funeral consumers and share tips on how to cater to their preferences.
And the Survey Says…
In 2011, some of the largest funeral homes in the nation started noticing that the customers they were seeing were very different from previous generations. To find out what was going on in their markets, they hired McKee Wallwork + Co, a market research firm, to conduct the largest study ever performed on funeral consumer behaviors and preferences. McKee Wallwork + Co interviewed 3,000 individuals and asked them hundreds of questions to identify consumer preferences and trends.
The study revealed six distinct consumer types, or "personas," that are in your market today. The consumer types were the Pine-Boxers, Funeral Friends, Polite Farewells, Dead-Enders, Solo Secularists, and Click & Callers. Additionally, the study revealed that some consumer types were growing while others were declining in numbers. As it stands, I have covered the Pine-Boxers, Funeral Friends, and Polite Farewells. Now, let's look at the next group: Dead-Enders!
The Dead-Enders at a Glance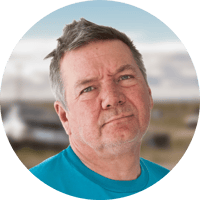 The Dead-Enders segment makes up about 14% of the funeral market. This type is predominantly male, and most have never been married. Approximately 53% consider themselves not religious, agnostic, or atheist. This type sees no need for a funeral home because their perception is that the funeral is for the deceased, not the living. The Dead-Ender thinks that superfluous spending on a funeral is futile, since the deceased is already dead. Therefore, they will look for the cheapest option available to them to dispose of the body and rarely see a point to hold a ceremony for the living.
The Dead-Enders by the Numbers
Here are some more details about this type:
71% of Dead-Enders are male.

90% of this group is under 65 years old.

52% work full or part-time while 22% is retired.

The median income for this group is $55K.

Tech school is their highest level of education.

They can be found all over the U.S.
Besides age, income, and education level, there is a lot to know about the preferences of the Dead-Ender type. For example, only 27% think tradition and ceremony are important, and 20% said they know a mortuary they trust. 65% of Dead-Enders noted that grieving is necessary, but it would have to happen in small groups because 49% specified they don't want a home full of people. When it comes to viewing the body, 8% understand the importance, but 29% are averse to the idea. 32% of Dead-Enders are open to making arrangements by phone or online, but the majority still prefers face-to-face interaction with the funeral home.
The Dead-Ender Consumer and You
This consumer type is like the Pine-Boxers in that they have a negative attitude toward funerals. They prefer a simple, straightforward planning experience and aren't looking to spend too much on a traditional funeral or cremation package. In fact, out of all the other types, the Dead-Ender type prefers to spend the least amount of money, but they still want a personal experience. Consider these tips if you encounter a Dead-Ender consumer in your funeral home:
Put their fears of overspending to rest by showing them budget-friendly options. Always offer options that are good, better, and best, and let them decide without feeling pressure.

Encourage events to take place at the funeral home. These consumers don't want a lot of people in their homes.

Share the purpose of a funeral to help loved ones heal if there are extended family and friends who may need the chance to honor a loved one.
Up next, I'll discuss the fifth type of new consumer: Solo Secularists.
For more information about the six funeral consumer personas, including a further break down of each type, download our free eBook titled "The New Funeral Consumer."