Tips to Make Your Funeral Home a Great Place to Work
August 17, 2022
Every employer wants to hire good-quality help, but it seems increasingly difficult to find the right people. Or is it?
There could be several different reasons why staffing is an issue in the funeral profession. We believe one of the first steps in eliminating this problem starts with the employer and the workplace. Here are some helpful tips to make your funeral home a great place to work.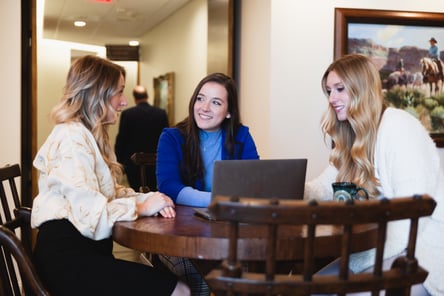 Create a Positive Culture
What does it mean to have a positive culture? Career experts often use the phrase 'psychological safety' to define a positive work environment. Psychological safety means your staff feels comfortable expressing creativity and new ideas without the fear of retribution. It allows them to be fully engaged with you, their coworkers, and with the families you serve.
Career consulting company Gallup emphasizes the importance of work culture with psychological safety. They even conducted a survey that revealed only 3 in 10 U.S. workers strongly agree that their opinions count at work. If this number increased to 6 in 10 employees, organizations would realize a 27% reduction in turnover, a 40% reduction in safety incidents, and a 12% increase in productivity.
Create a culture where employees can count on one another, feel safe to express themselves, and put 100% into their work. The way you and your employees connect with families will be more personal than ever before.
Be Open to New Ideas
New ideas are not always welcome in the workplace, because it's hard to accept new ideas when you know what works. Be open to new ideas, and let your employees (and interns!) know that their voice counts. The ability to express oneself at work increases trust, creativity, and productivity.
Be Accountable
Being true to your word is in the nature of the funeral profession. When you are working with a family, it's important to follow through with your promises the best you can. Just the same, a good employer always keeps their word to employees. Building trust in the workplace strengthens relationships with employees and improves teamwork.
Communicate Clearly
Why do mistakes happen at funeral homes? Or any business for that matter? A lot of times, mistakes occur in the workplace because of miscommunication. Communicate clearly with your staff, and encourage them to do so amongst themselves. This will help your staff work together to get tasks done on time, the right way, and with less confusion.
Increase team collaboration and innovate new business processes with Passare. Set up a demo with one of our account executives to see the benefits of using our platform in your funeral home.
These leadership style tips in creating a positive place to work. Here are 3 hands-on ideas to try with your staff to increase trust, innovation and team productivity.
1. Offer hands-on internships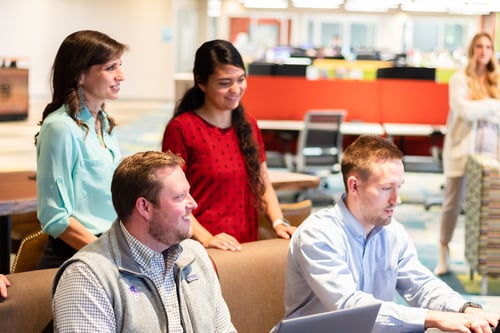 When any employer hears the word 'intern' it's easy to think, "Great! Someone to come in and take all these tasks like mowing the lawn off my plate"
While it's tempting to dump menial tasks on the summer intern, they have so much more to offer your business. Interns want to work at your funeral home to learn as much as they can about what you do to serve families. Give them the opportunity to do this by letting them shadow daily operations as much as possible.
You also have the opportunity to teach them the unique processes you use. Interns who get hands-on experience will be a better hire after graduation, because they're already comfortable with your business processes. On top of that, they're more likely to want to work at a funeral home they know and understand.
2. Ask your employees (and interns!) for ideas
It's important to value employee ideas and feedback. Allow your admin staff, funeral directors, interns, and other employees to share ideas for services to families and business processes.
For example, at Passare we constantly ask our customers for feedback. Do the customers own Passare? No. But, what their feedback is crucial to our products. Without their ideas and feedback about Passare, we couldn't possibly create the top funeral home software for funeral directors.
The same goes for you and your staff. If you put your heads together, you can come up with ways to reach families in ways that make a huge impact. Your employees will feel like their work is valuable to the funeral home and the families you serve.
3. Get everyone on the same page
Making sure your staff is implementing processes and products used in your funeral home business is important. Here's why:
You don't want to pay for a product or service only one person uses.

If only one person updates their processes, this can cause tension and frustration among coworkers who aren't making the same changes to their workflow.

If you're all making changes together, you can experience the learning curve at the same time. This builds relationships and helps your entire funeral home's productivity go up.
We've helped many funeral home owners and their staff implement Passare into their day-to-day operations. Download the Implementation Playbook to see how easy it can be to learn new software with Passare's support team.
Staffing is one of the top issues the funeral industry is facing right now. It's hard to provide excellent customer service and high-quality care for families when you can't find anyone to help you do it.
Even though it doesn't seem like it, there are still young (and eager) funeral professionals out there looking for the right place to work. Start implementing ways to create a positive environment and earn the reputation of a great funeral home to work at.
💡 Interested in this topic? We interviewed a group of mortuary students to find out their expectations after graduation. See the recap, along with a survey with 100+ responses that shares insight as to what the next generation of funeral service is looking for in a job and future employer by reading How to Recruit the Best & Brightest: a Q&A with Mortuary Students.