Tools to Help You Stay Organized in 2023
December 09, 2022
Passare is a powerful machine. Just like a car needs a regular oil change and tire rotations to prevent major problems, Passare needs to stay neatly organized to give you and your team the best experience and prevent confusion later on. When you first launched Passare, your implementation manager probably helped you get organized from the start. But, as we all know, things can change at the drop of a hat, and sometimes you may need to do a little reorganization on your own.
Well, maybe not completely on your own. Our Support team is always here to help.
While our support team is lightning-fast at solving problems and helping you learn, we want to save you the hassle of hopping on a phone call or having to send another email by encouraging you to become a pro at some of the most useful features in Passare. Here are some tools that will help your funeral home stay organized going into 2023:
1. Prepare for January by renumbering your cases
First things first, if you need to start renumbering your cases in January, make that a top priority this month. Request an update to your case identifiers through the Passare form - if you haven't already done so, you can do that here. By doing this before January 1, you'll be able to start with fresh case identifiers and avoid any wait time (we typically have a higher volume of calls due to case renumbering requests, so get yours in early!).
2. Find what you need with filters and case tags
Next, filter and find your data more efficiently with Passare's Case Tags. If you find that you're needing to sort through certain types of cases (like COVID-19 cases for example), you can easily create a filter based on a case tag. Learn how to create unique tags here. Learn how to filter and report on these tags here.
You can also easily customize case statuses (such as "New", "In Progress", "Pending Paperwork", etc.) to organize your information to see where your cases are in your process. At certain stages of a case, you can also lock certain information from being edited, like first call information, vital statistics, disposition, etc. to avoid unfortunate data snags if something gets accidentally edited. Learn more here.
These are just a few ways to keep your business organized in Passare. Explore more Passare business management tips here.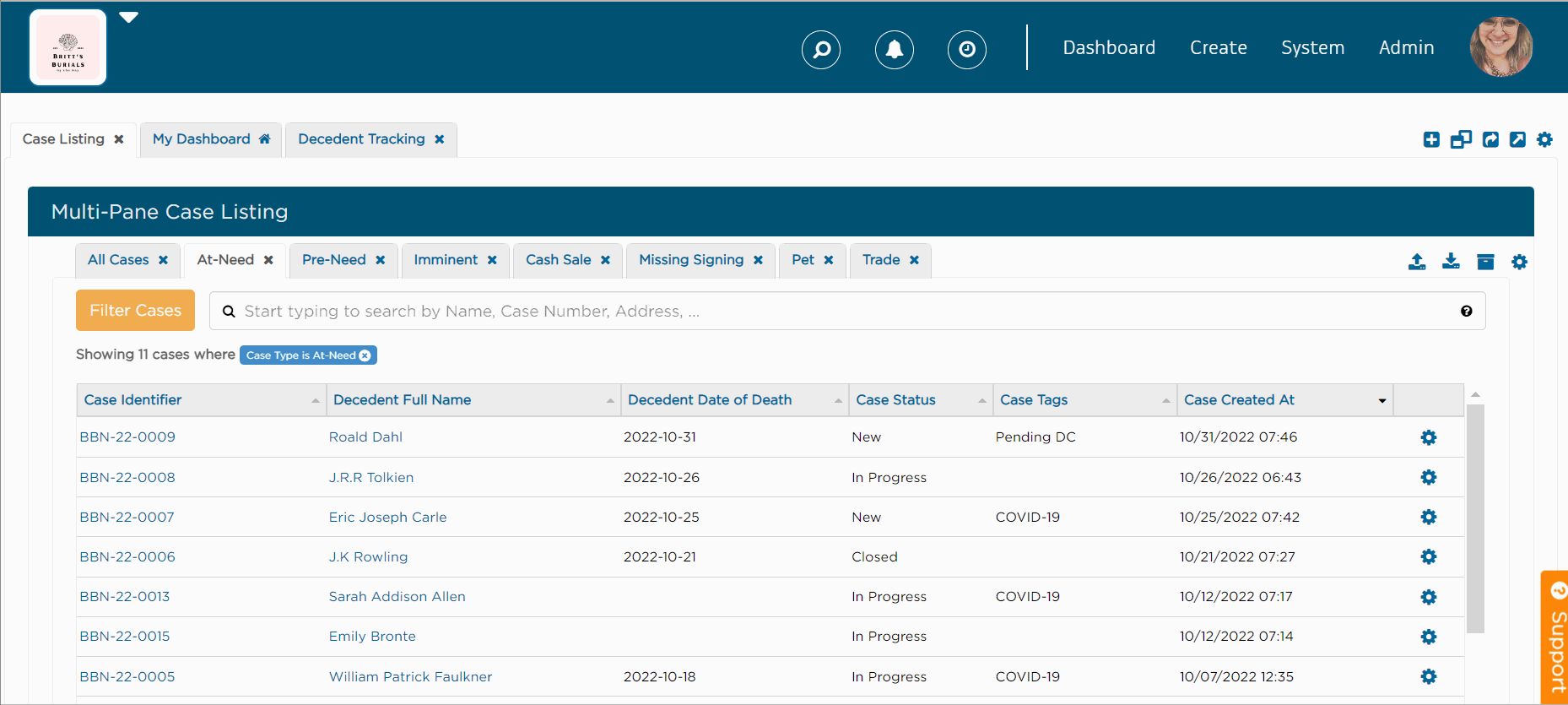 3. Use case types for maximum organization
Cases are not one-size-fits-all. Every family is unique, and your cases should be too! That's why we offer many cases to choose from, based on each situation. In Passare, you can create the following case types:
Pre-need: capture important pre-need data, including vital statistics, family & friends, and veteran information.
Imminent-need: work alongside families with loved ones in hospice care.
At-need: monitor cases you're currently working on.
Cash sale: track items that happen after the contract is signed, such as requests for extra death certificates.
Trade: keep track of trade work, including embalming, removals, and cremations.
Pet: work on cases associated with a veterinary clinic.
You can use case types to better organize and filter your cases. Keep track of the case types you need to manage for better business insights in 2023. Getting started is simple here.
4. Keep track of details with checklists, notifications and notes
Stay organized, delegate tasks, and never lose track of important case details with case notes, checklists and notifications. This is a great feature for team- and self-organization. Try out these tips when you start using checklists, notifications and notes:
Define a process with your team and establish the expectation that every case should have detailed notes and a defined checklist.

Be sure that your team has their text notifications set up for easy team collaboration.
Learn more about notes and checklists here and text notifications here.
5. Explore the Help Center
One of the best things you can do to get the most out of Passare, is learn how to utilize our Help Center to the fullest extent. In the Help Center, you'll find how-to-articles written for nearly every feature. One of the most helpful sections in the Help Center is the organization section. There are several articles here that will help you set up or adjust your Passare instance exactly how you like it, from setting up custom obituary templates to best practices for case tagging, filtering and reporting so key information stays organized.
Go explore. You may find something new!
Staying organized is key to smooth business operations. By using these tools, your team will be up to date on the details and case details will be easier than ever to find. As always, if you get stuck somewhere, give us a call and we'll help you get started!
Contact Support:
1-800-692-5111