5 Ways AI Can Help You Personalize Obituaries for Families
November 30, 2023
Written by Natalie Chapman, Passare Content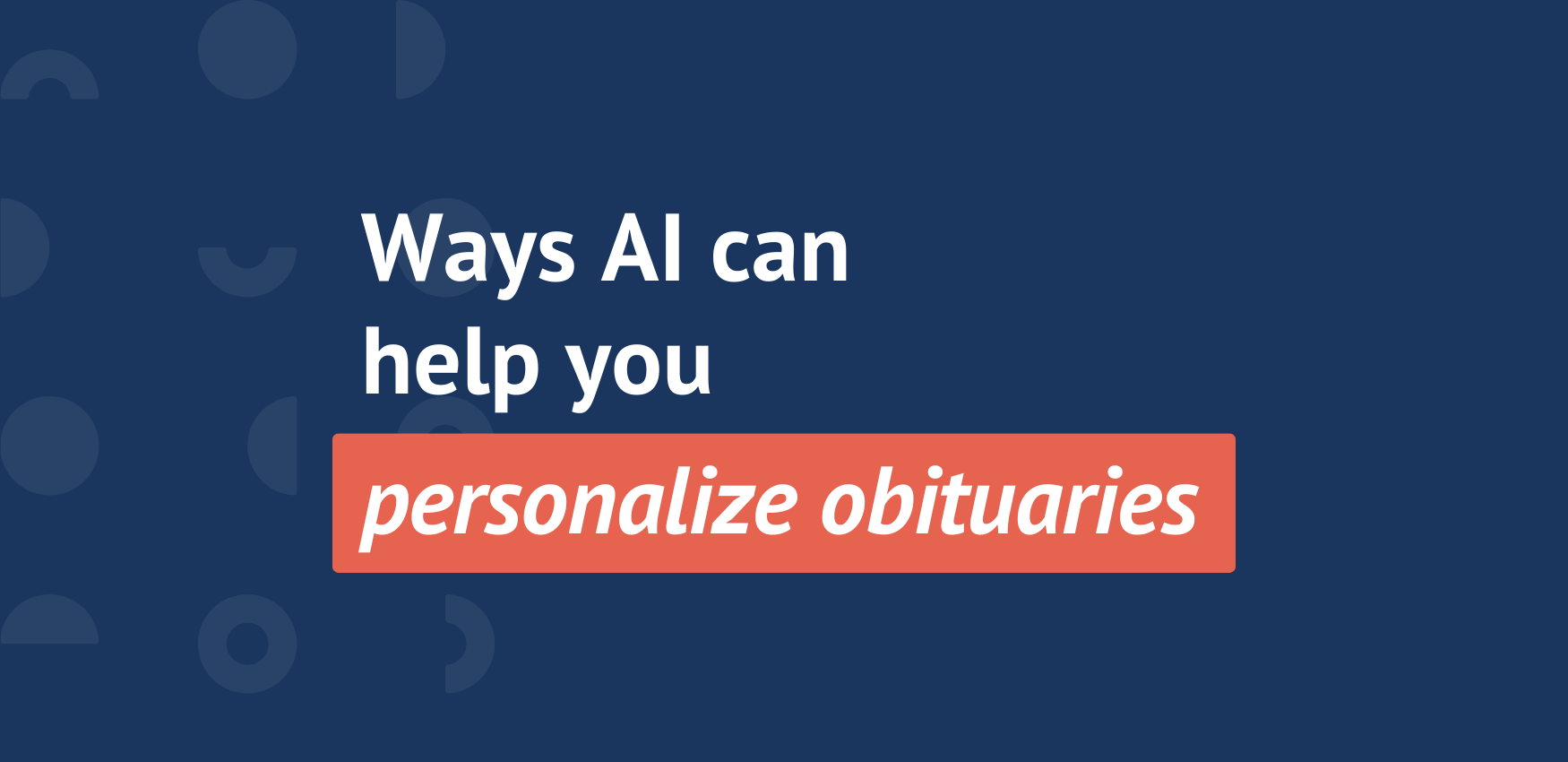 In a recent study, McKee Wallwork + Co. found that 54% of participants said they would get online assistance with writing a eulogy.
We're willing to bet they'd say the same for getting help with an obituary.
The truth is many families go into the funeral planning process not knowing what goes into a great obituary, and they will want and need your help.
However, what happens when you have writer's block too?
Or when you're in a time crunch?
Sometimes, neither you nor the family have the time (or the words) to write a great obituary. But every decedent deserves a well-written obituary.
With the help of AI, you can provide families with an excellent obituary every time.
The main benefits of using AI to help families write obituaries
Provide help faster and quicker

Make edits and meet specific requests in less time

Give families with different obituary options

Personalize the obituary with key details

Strike the right tone, from heartfelt to inspirational
Now that you know the benefits of using AI for obituaries, let's look at five ways AI can help you personalize obituaries for families.
#1: Write a heartfelt opener
While you may have experience writing obituaries, families might struggle to find the right words to express the loss of their loved ones.
With the help of AI, you can provide the family with a death announcement that captures the essence of their loved one's life.
Passare's AI writer uses case information entered to write personalized openers. Here's an example of how AI used Vitals in Passare to write a heartfelt opener:
From AI:

Jane Smith, a beloved wife, mother, grandmother, and cherished member of the community, passed away on September 6, 2023, at the age of 78. She was born on April 10, 1945, in Montgomery, Alabama, to proud parents who instilled in her a love for family and a zest for life.
Depending on the family's request, You can add different emotional elements to an opener. For example, the statement above uses the tones "Celebratory and Informal." Passare has eight different tone options when writing an obituary to make it more formal, poetic, compassionate, etc.
#2: Include unique interests
Families often share memories and stories about their loved one at the arrangement conference, which can help you personalize the service. You can use details shared about the decedent's interests, hobbies, and pastimes to personalize the obituary.
But not everyone is an elaborate writer. And turning "mom enjoyed gardening" into a personalized section of the obituary can be challenging.
With AI, you can whip up personalized details to add to the obituary in seconds. All you have to do is enter details from the family into the obituary prompt, and AI will do the rest of the work. Check out this example:
What we entered in Passare: 'enjoyed being outside' 'had a rose garden'.

What AI came up with:

Jane was known for her vibrant spirit and zest for life. She had an unwavering love for the outdoors and spent countless hours tending to her cherished rose garden, as she found solace in the tranquility of nature. Her green thumb and dedication to gardening yielded an array of blooms that brought joy to all who encountered them.
#3: Share how much they were loved
When mentioning family and friends in the obituary, it's easy to end up with a long list of surviving family members that make up a majority of the obituary copy.
You can help families articulate how much the decedent was loved by many by including a personal section about family and friends in the obituary.
Passare's AI writer takes information entered about family and friends and uses it to craft a personal section about the family. Take a look! 👇
From AI:

Jane shared a profound bond of love and companionship with her husband, John, whom she stood by through thick and thin. Their unwavering devotion to one another served as a beacon of inspiration to all who knew them.

Jane's love extended to her children, Karla and Greg, and their respective families. She adored spending time with her granddaughter, Monica, and grandson, Kurt, who brought an abundance of joy and happiness into her life. She cherished every moment spent with her daughter-in-law, Judy (wife to Greg) and son-in-law, Jack (husband to Karla), creating cherished memories that will be treasured for generations to come.
#4: List accomplishments
Adding a section about a decedent's accomplishments speaks to their impact on friends, family, and community. However, fitting one person's achievements into one paragraph can be difficult.
AI can help you get started by taking case details like occupation and education level to write a unique summary of the decedent's life work. Then, to personalize it further, you can add additional details from the family into your obituary prompt:
What we entered in Passare: 'owned pediatrics clinic' 'received doctorate from University of Texas Austin' 'awarded doctor of the year in 2022'.

What AI came up with:

Jane dedicated her life to providing exceptional care to children and their families, leaving behind a legacy of kindness and healing. Her commitment to her profession was unwavering, and she touched numerous lives throughout her career. As the founder of Smith Family Pediatrics, Jane's medical practice became a pillar of the community, providing top-notch healthcare services to countless children.

Jane pursued her education relentlessly, achieving a doctorate degree from the prestigious University of Texas at Austin. Her expertise and commitment to pediatric care earned her the respect and admiration of colleagues and patients alike. In recognition of her exceptional contributions, Jane was nominated as Doctor of the Year in 2022, a testament to her exemplary medical career.
And just like that, you're able to provide the family with a personalized list of accomplishments for the obituary.
#5: Touching final thoughts
Including service details and information about donations or the visitation at the end of an obituary is standard.
AI will pull the service date, time, and location and create a closing paragraph that will leave readers with touching final thoughts. Check out this example from AI:
From AI:

Her loss leaves a void, but the memories she created will forever remain in the hearts of her family and friends. A celebration of her life and legacy will be held on Tuesday, August 21st, 2023 at Northside Chapel in San Francisco, CA. Following the ceremony, there will be a gathering where attendees can share stories, laughter, and support in honoring Jane's remarkable life.
Start using AI to save time on obituary writing
Families often find writing an obituary challenging, especially when they're unfamiliar with funeral planning. They may struggle to find the right words to express their feelings and memories of their loved ones. But with the help of AI, you can assist families in creating a personal obituary in a fraction of the time.
Passare's AI writer takes case details entered into the software and uses those to generate obituary drafts. AI can assist with the writing process, so you can spend more time helping families plan a meaningful service.
Want to learn more? Read 3 Amazing Benefits of Using AI to Write Obituaries or book a demo with one of our team members to see more timesaving features in Passare. 👇