3 Amazing Benefits of Using AI to Write Obituaries
September 28, 2023
Written by Natalie Chapman, Passare Content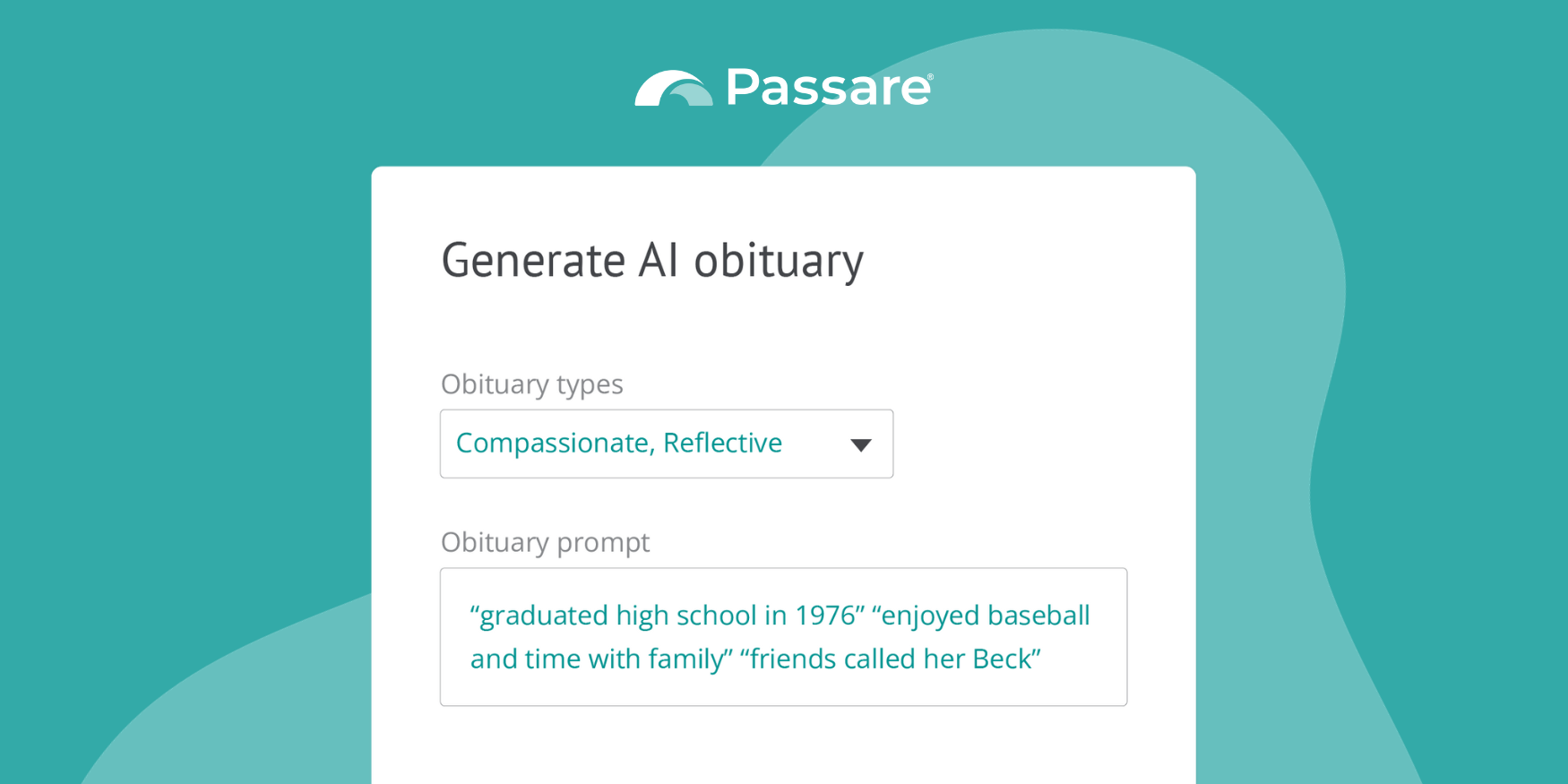 When writing for your funeral home, would you let artificial intelligence (AI) take the reins on a new employee bio for your website? Or an end-of-year report to your shareholders?
Or an obituary?
In a recent survey, Forbes Advisor surveyed 600 business owners who are using or planning to incorporate AI. Of those 600, 97% said they believe ChatGPT will help their business.
But, as always, new technology presents new concerns. In the same survey, 40% of business owners expressed concern about over-dependence on technology as the use of AI grows.
So, while some may think AI can be impersonal, using it in your funeral home, especially for obituary writing, can save you time and effort in the writing process while also providing personalized obituaries.
Manually writing each obituary can take up a lot of your time. And if you have to write in a rush, it can affect the quality and accuracy of each obituary.
With AI, you can generate a first draft quickly so you can spend more time making it personal and unique. Keep reading to see 3 amazing benefits of using AI to write obituaries.
#1: Save time on the writing process.
Once you've written your first draft, received edits from the family, and revised a second draft, you've likely spent hours crafting a unique obituary.
With AI, you can save time by generating obituary drafts in seconds!
In Passare, the AI obituary writer automatically pulls information from case details to create an accurate first draft. This way, you'll spend less time thinking about what to write and get more time to proofread your draft before sending it to the family.
#2: Make editing a breeze.
Each time you write an obituary draft, you must proofread it before sending it to the family.
When AI quickly whips up a first draft for you, you get more time to proofread your draft and send a well-written first obituary to the family.
But it doesn't end there. Many times, families want things deleted, changed, or added. With this tool, you can quickly make revisions, generate an alternative draft, or add more sections to the obituary to meet a family's request.
#3: Make things personalized when you can adjust the tone of each obituary.
Providing families with multiple obituary options is only a reality when you're not crunched for time.
And how often are you not in a time crunch?
With Passare's AI writer, one tone doesn't fit all. We have a variety of obituary types to choose from. For example, you can choose celebratory, informal, reflective, reverential, or any combination of options to make the obituary truly unique.
Take a look at these snippets from two different AI-generated obituaries in Passare. We created them using the exact case details but different tone options:
Version #1: Celebratory and informal
Jane Loretta Smith, a beloved wife, mother, grandmother, and friend, passed away on September 6, 2023, at her home in San Francisco, California. She was born on April 10, 1945, in Montgomery, Alabama, and lived a fulfilling life filled with love, joy, and cherished moments.
In 1963, Jane graduated from high school, marking the beginning of her journey as a lifelong learner. She always valued education and encouraged her family to do the same.
She was a dedicated secretary at Smith Ford Automotive Dealership, where her exceptional skills and unwavering commitment made her an invaluable member of the team.
Jane held her family close to her heart, finding immense joy in her role as a wife, mother, and grandmother. Her loving husband, John Smith, stood by her side through thick and thin, as they created a life full of love and shared adventures. Together, they raised their son Greg and daughter Karla with unwavering dedication and unwavering love.
Greg and his wife Judy, and their daughter Monica, brought endless happiness to Jane's life. She adored her granddaughter, cherishing each moment spent together and creating memories that will forever be treasured. Karla, along with her husband Jack and grandson Kurt, brought light and laughter into Jane's world, making her proud every step of the way.
Version #2: Reverential and formal
It is with heavy hearts that we bid farewell to Jane Loretta Smith, a cherished wife, devoted mother, doting grandmother, and esteemed member of the community. Jane passed away peacefully on September 6, 2023, at her residence in San Francisco, CA, surrounded by the love of her family. Her departure has left an indelible void in the lives of all who knew her.
Born on April 10, 1945, in Montgomery, AL, Jane was the epitome of grace, strength, and resilience. She was a woman of unwavering dedication, always placing her loved ones' needs before her own. Jane's warm and nurturing spirit endeared her to all who crossed her path, making her a beloved figure in our community.
Jane exhibited a strong work ethic from an early age, and she successfully completed her education, earning her high school diploma in 1963. Her diligence and determination opened doors for her career as a secretary at Smith Ford Automotive Dealership, where she served with exemplary professionalism and commitment.
Family was the cornerstone of Jane's life. She shared a beautiful union with her beloved husband, John Smith, which was a true testament to love and commitment. Together, they built a life filled with love, laughter, and shared memories. Jane and John were blessed with two children, Greg Smith and Karla (Smith) Green.
See the difference?
With AI quickly able to generate different drafts, you can give every family multiple options to choose from. This level of service will let families know you're dedicated to crafting the most personalized care.
AI is here to stay...so why not use it fully?
Using AI to generate obituaries is one way you can save time and provide each family with a personalized obituary.
Ready to start using AI to the fullest? See the ins and outs of how it works here or get a demo of Passare and see this time-saving feature (along with many others!) in action.