Get Started with Passare in Just 30 Days: Laying the Groundwork
March 15, 2022
When it comes to funeral home software, you may be worried about making such a big change. We'll work with you to get you up and running with the most advanced collaboration software in just 30 days.
By Josh McQueen, Vice President of Product
You may be a funeral professional who has heard about Passare's cloud-based software and how great it is, but you are worried about making such a big change in your business. We completely understand. It can be overwhelming to think about getting your team onboard and changing your processes. But I have good news! Our team at Passare can work with you to get you up and running with the funeral profession's most advanced collaboration software within just 30 days. Over the next few weeks I'm going to show you how.
For now, let's look at a case study and then how to lay the groundwork for a successful transition to Passare.
Case Study: Broussard's Mortuary
Broussard's Mortuary was founded in 1889 as the first funeral parlor in Southeast Texas. Based in Beaumont, Broussard's has grown to six locations in the surrounding communities and now serves over 1,500 families each year. Jayme Broussard Toeppich and her brother Blue Broussard, a 5th generation funeral director, recognized that the software they had been using for the past 20 years was no longer keeping up with their needs. The biggest factor holding them back from making a change? Dealing with the headache of retraining all of their staff across each of their locations. After meeting with the team at Passare, though, Jayme and Blue decided to take the leap. We will follow the Broussards through every step of implementation, from set up to going live.
Laying the Groundwork



1. Get to Know Your Implementation Team
Before you even get started with the implementation process, it helps to understand who the key team players will be. On Passare's team, you will be working with the following team members:
The Sales Manager: This is the person who helped you understand the features and benefits of Passare as you researched options for funeral home software solutions.

The Implementation Manager: This person works with new customers to help make sure your implementation plan remains on schedule.
On your team, you will need to identify who will be the "champion of change" in your organization. The key players are:
"The Boss": Change works best when it comes from the top down. If you want your team to begin using Passare, they will need to hear about it from you—"The Boss"—and know that you will be checking in with the team to make sure that they are making progress.

"The Champion": This person is the primary contact with Passare who will help implement the plan. This includes providing all the items needed to be configured within the platform, reviewing those items after they're configured, and scheduling trainings for the rest of the staff in the organization.
2. Clarify Your "WHY"
With the first step underway, the second thing that your team needs to know is why you have decided to transition to Passare. When you are communicating the "why," keep in mind that while your staff may appreciate the business reasons for moving to Passare (creating efficiency, better insight, saving time), they care more about the personal impact to them in their daily work life. For most of your staff-level employees, there are two questions you need to answer:
How will this make my job easier?


How will it help me serve my families better?
There are plenty of examples of how Passare can help your employees in our blog. Check out our monthly Spotlights to get a feel for some of the benefits to your staff.
3. Communicate Openly with Your Team
Once you announce that a change is coming, your staff will probably have a lot of questions! Open communication is key and will help alleviate any concerns your staff has. As always, you can contact our support team at any stage throughout this process to ask questions, gain insights, and dive into further detail as needed.
So, What Happens Next?
Let's take a look back at our case study. At Broussard's Mortuary, the owners determined that Jayme Toeppich would play the role of "The Champion" to work with Passare to set everything up. After sending in all of the needed setup items, Jayme recruited key team members from their three main teams: Accounting, Admin Assistants, and Funeral Directors. "It's important to bring in the right people at the right time," said Jayme. "We had a few team members that were hesitant in changing software. We chose not to involve them in the process upfront because we wanted to have the people we selected be cheerleaders for the rest of the organization."
In my next blog, I will cover the responsibilities of "The Champion" and how that person can work together with the Passare team to quickly complete the setup in as little as 30 days. Until next time!
For a more in-depth explanation of the Passare onboarding process, download our Implementation Playbook.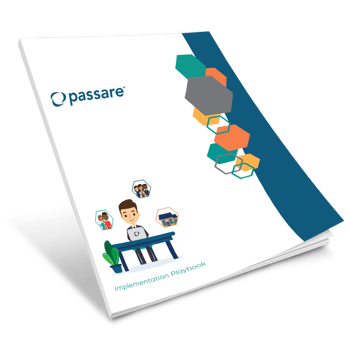 If you're still curious about Passare and want to join the thousands of other funeral homes who have made the switch to our cloud-based software, request a demo today!