How Families (and YOU!) Benefit from Using the Planning Center
January 19, 2021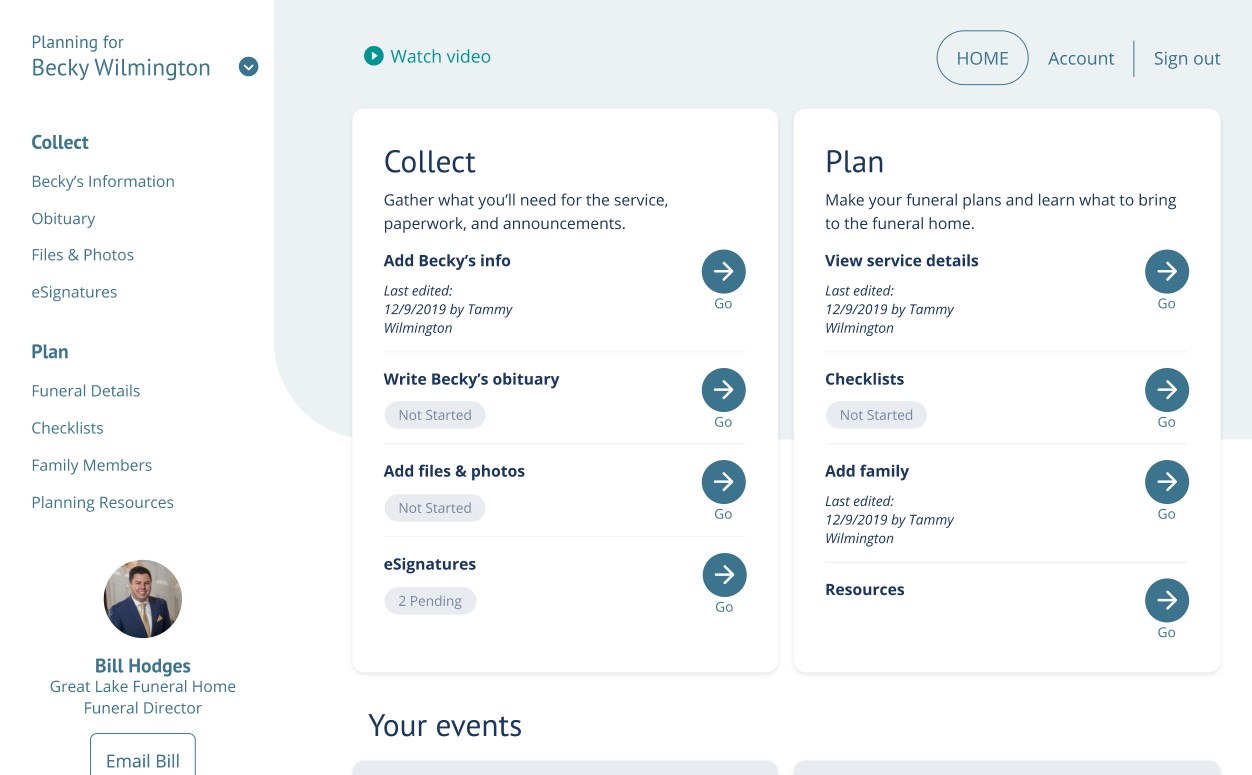 When you have your families, staff, and vendors to keep in the loop, you need a tool that improves communication and makes your life easier.
That's where Passare's Planning Center comes in.
By Chris Gomez, Director of Product Marketing
When you serve families, you're not only trying to plan a memorable service or memorial, but you're working with families behind the scenes to ensure every form is signed and every detail is perfect. However, connecting with families via email, phone, voicemail, and text messages can lead to misinformation about the loved one and miscommunication about service details. When you have your families, staff, and vendors to keep in the loop, you need a tool that improves communication and makes your life easier.
That's where Passare's Planning Center comes in.
The Planning Center is a platform designed to allow families and funeral directors the option to collaborate on funeral or memorial arrangements, anytime, anywhere, using any internet-connected device. The Planning Center lets families collaborate on at-need arrangements with you when they can't make it to the funeral home or simply need more time to discuss preparations with other family members. This platform lessens the stress that families feel when they have to make last-minute decisions and ensures you stay in the loop with case information and service details.
But what exactly do families do in the Planning Center?
There are two steps for families (and you) to complete in the Planning Center that help you ensure no one misses anything when preparing for a funeral or memorial. There's also a third step, which is entirely optional, yet extremely valuable.
Step 1: Collect
When you invite the family to use the Planning Center, the first thing they will do is watch a helpful video tutorial explaining the Planning Center, then they fill out the basic information for their loved one. They will be able to enter the name, date of birth, social security number, and employment history, as well as the obituary. Families can also start collecting files and photos to upload for use during the service.
How This Helps You
The Planning Center collects all uploaded documents and information that the family types and automatically populates the case in Passare. This means you can spend less time on paperwork during the arrangement conference and more time talking about what the family wants to discuss. You're also able to reduce errors by having the family confirm that all the information entered in the Planning Center is correct…the first time.
Step 2: Plan
The Plan section allows the family to share their preferences for the type of funeral they would like to have. You can also add customizable checklists to keep everyone on the same page throughout the planning process. For example, you can use a checklist to inform families of items they need to bring to the arrangement conference. The Plan section gives you a preliminary idea of what the family wants for their loved one's services before they come in for the arrangement conference.
How This Helps You
You can use the responses you receive in the Planning Center to prepare your recommendations for services and merchandise. For example, if the family reports that dad was a golfer, you can bring a few ideas for personalization and display some merchandise options that would appeal to the family. You can also see exactly where the family is in the planning process and reach out to help them through any section, no matter where they (or you) are located.
Optional Step: Learn
The last and final section of the Planning Center is a place for families to educate themselves with reliable resources on funeral planning, grief, and healing. The internet is full of information and, unfortunately, most of it is not helpful for grieving families. We talk to funeral directors all the time whose families come to them confused, misinformed, and defensive due to misconceptions about the funeral industry that they found on the internet. Our resources were designed by the best grief experts in the industry for families in their time of need.
How This Helps You
Not only can you halt misinformation, you can also add your own personal or local resources to the library, such as grief counselor information, support meetings, and articles, customizing the archive to meet the needs of your funeral home. With this step, you're letting families know that you're there for them every step of the process, from at-need funeral planning to aftercare and beyond.
What's the Cost?
We know this platform may sound too good to be true, but believe it or not, this platform is FREE for all Passare users! It's our way of helping you connect with your families, no matter where they are in the planning process or where they are geographically.
Not a Passare customer? No problem! Check out this FREE self-guided tour of the Planning Center.
Already a Passare customer? First of all, THANK YOU. We appreciate you! Active Passare users can learn more in Passare Support!
Read all the articles in this series!
Collaborating with Dispersed Families
Collaborating when Families Don't Want to Come in Right Away
Collaborating when Families Want Custom Experiences
How Families (and YOU!) Benefit from Using the Planning Center