Passare Wins 2021 NFDA Innovation Award for Groundbreaking Integration
October 21, 2021
ABILENE, TX –– Passare is proud to announce that it has been recognized as the National Funeral Directors Association's Innovation Award winner for 2021. Passare's novel integration with the electronic death registration system (EDRS) in Pennsylvania has been named the funeral industry's best new product or service.
First ever integration with a state's EDRS
This first-ever integration with a state's EDRS has helped Pennsylvania funeral directors save time and effort when it comes to processing death certificates and is the latest example of how Passare offers a best-in-class experience for funeral professionals and the families they serve.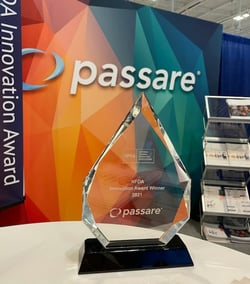 "This is a huge honor, but it would not have been possible without our friends at the Pennsylvania Funeral Directors Association, our loyal Pennsylvania funeral homes, and our hardworking team who always looks to go above and beyond for our customers," said Josh McQueen, Vice President of Product at Passare. "Our goal has always been to help funeral professionals save time on data entry, and this integration does just that."

With the Pennsylvania EDRS integration, Passare customers avoid doing repetitive work and wasting energy by using the information they previously entered into their Passare accounts to complete the death certificate in the PA EDRS.
This one-of-a-kind feature allows for a smoother connection between funeral homes and the Pennsylvania Department of Health, all while helping to reduce potential errors caused by retyping information.
"We're proud that we've continued to provide tools and services for funeral homes that make their jobs easier," McQueen added. "This integration is only the beginning. Passare will keep moving forward, innovating, and providing funeral professionals with options that will allow them to spend as much time as possible with their families."
To learn more about the Pennsylvania EDRS integration, please visit www.passare.com/pennsylvania-edrs-integration or contact the Passare support team at 800-692-5111 or support@passare.com.
Want this integration in your state? Click here.
About Passare:
Passare offers the funeral profession's top cloud-based collaboration software with integrated business management tools. Through Passare, funeral directors can connect and communicate with families, streamline processes, and access case information anytime, anywhere, using any internet-connected device. Offering unlimited users, unlimited devices, and unlimited updates, Passare is helping funeral staff to save time, streamline processes, and spend more quality time with the families they serve and with their own families at home. For more information about Passare's cloud-based collaboration software with built-in business management tools, request a demo.