Passare's NFDA Convention Recap: What did you miss?
October 18, 2022
What happens in Baltimore, stays in Baltimore. Well, not really. Because we're about to tell you everything that happened last week!
It was a great convention
This year's convention season closed with NFDA 2022. It was a very busy week, but we can assure you that all the early mornings, late nights, and hours spent in the expo hall, were well worth it. We got to see old friends, hang out with our partners, and meet so many new people. Many people weren't able to make it, and those who did go are probably still sitting back thinking - what just happened? Either way, here's our recap of the entire week.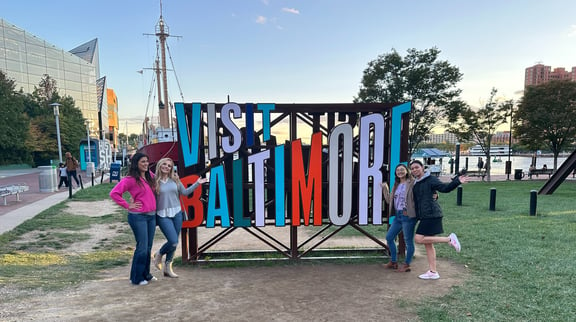 When in Baltimore...
It didn't take long to realize we weren't in the south anymore (they steam their crabs for crying out loud!). If you've never been to Baltimore before, we were in the same boat and didn't know what to expect when visiting this mid-Atlantic city. Now that we've been, here's 3 things we think every Baltimore tourist should know:
1. If you don't eat seafood, just ask for the kid's menu
They eat crab all the time, and it's always steamed - never boiled. We went to several different restaurants and got to try some amazing seafood. We even tried oysters!
2. You have to visit the aquarium
Shhh...don't talk about last night's dinner in front of the fish! We took time to visit the National Aquarium and it was such a cool experience. If you ever find yourself in Baltimore, this is a stop you'll want to make.
3. The road goes on forever, and the party never ends
Power Plant Live! is a Baltimore entertainment mecca located near the famous Inner Harbor. With multiple bars, restaurants and entertainment venues, to call this place 'a good time' is an understatement.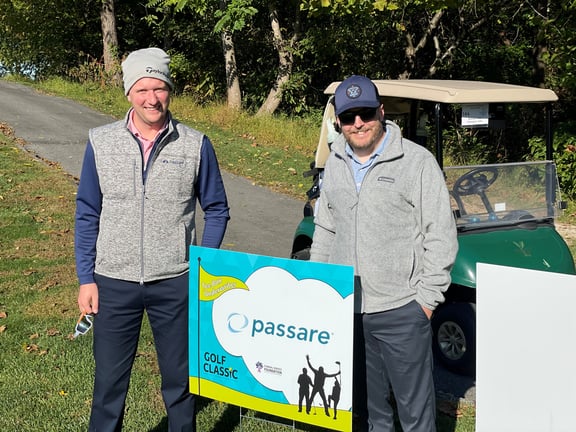 Kelly and Josh, our VPs, playing in The Funeral Service Foundation's Annual Golf Classic.
Golfing 'fore' a good cause
The Funeral Service Foundation hosted their Annual Golf Classic on Sunday, October 9th, at the famous Whiskey Creek golf course (if you're a golfer, add this to your Baltimore bucket list!). We always enjoy the chance to golf in this tournament.
Are we scratch golfers? Well, not exactly - but the cause behind this tournament is something we feel passionate about. It's amazing to see so many organizations and businesses come together year after year to honor the funeral profession. This year was no different, and we were proud to be a part of the event.
While at convention, we learned a lot about the different programs The Funeral Service Foundation supports. One in particular stuck out to us: Journey to Serve. In 2021, Funeral Service Foundation and ICCFA joined efforts and launched the Journey to Serve marketing campaign. This campaign was built to recruit military veterans into funeral service. Veterans have selflessly served our country, and this is a great way for them to work in a profession of meaningful service after retiring from the military. Looking for your next high-quality hire? Visit Journey to Serve.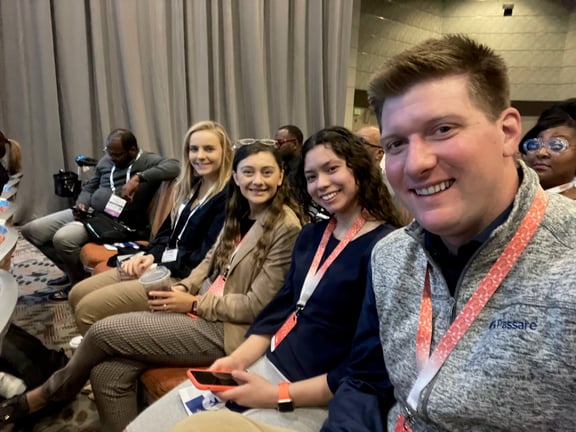 Our sales team at the opening session.
The Power of Strategic Storytelling
The opening session Monday morning was an outstanding presentation led by Kindra Hall. Here's what we learned:
- Storytelling is meaningful. We're all guilty of telling the same stories over and over again to different people. After doing this for a long period of time, we often fear that our stories might start losing impact. However, Kindra emphasized that each story told is meaningful. Whether you've got a new story every day, or you've been telling the same one for decades, storytelling helps build relationships and create deeper connections with each person you meet.
- It's not who your brand is, but what it did. Every brand has a story, and many of them are really interesting (read ours here). But in the long run, it's what your brand does for others that really matters. For example, the story of building our new brand is interesting and shows the intentionality behind our company's brand. But what matters more is what our software actually does to help funeral directors manage their business and connect with families.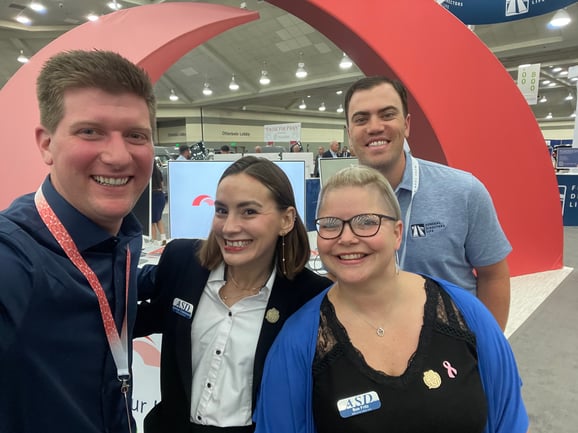 Kelly and Drew with our friends at ASD!
Proud Partner Moment
Answering Service for Directors has been around for 50 years, and they celebrated in style at NFDA! ASD has been serving the funeral profession for a long time and has continually improved business processes for funeral homes everywhere. We're proud of our partner for their longstanding commitment to serving the funeral profession.
On top of that, NFDA announced Everything After as the winner of the 2022 Innovation Award. Funeral homes go above and beyond to meet the needs of families who are planning funerals. Unfortunately, as families leave the care of the funeral home, they are often left dealing with the challenges of settling an estate on their own. Everything After was built to help funeral homes continue caring for families as they navigate grief and manage the challenges that come with settling an estate. We were excited for our partner to win such a ground-breaking award!
Hall of Famers
It's not just vendors who are awarded for innovation and creativity. Every year, numerous NFDA-member funeral homes are awarded with the Pursuit of Excellence, and the top three winners are then nominated to the NFDA Hall of Excellence. These funeral homes meet and exceed business standards, provide career development opportunities, have outstanding outreach programs and are involved with their communities. Two of our customers were nominated for this award and inducted into the NFDA Hall of Excellence. A huge congratulations to C.R. Lyons & Sons Funeral Directors in Danvers, MA, and Heath Funeral Chapel & Crematory in Lakeland, FL, for their commitment to excellence all year long.
Congratulations to all the 2022 winners of the Pursuit of Excellence Award!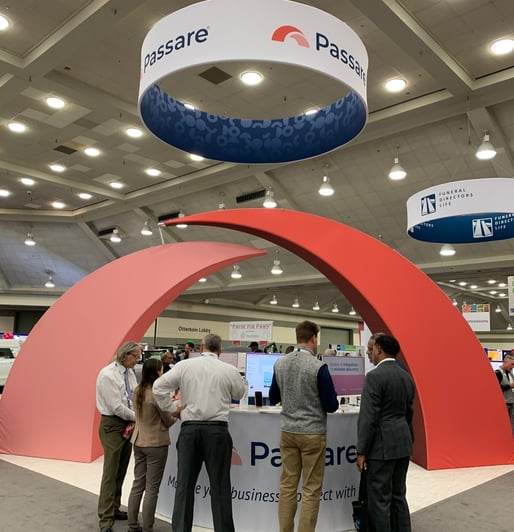 Our booth set up in the expo hall.
Was there an award for best looking booth?
Okay, maybe there wasn't an award for best looking booth, but if there was, we could have been in the running to win. Over the last year our teams worked together to rebrand Passare, and of course we couldn't leave the booth out on the new-look fun! We teamed up with Fusion Imaging in Utah to turn elements of our new logo and branding into a life-size booth. We loved the opportunity to share it with others during exhibit hours.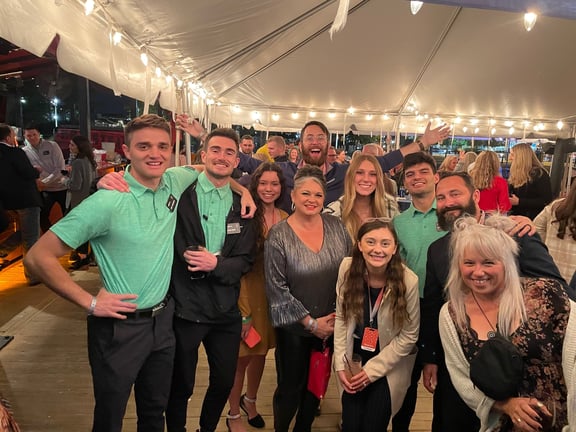 Our team at the party with Tukios, Precoa, and Messenger.
A good time was had by all
Conventions are always a great time to re-connect with old friends, partners and customers that we haven't seen all year long. We hosted our own party Monday evening at The Center Club overlooking the Baltimore harbor. There was live music, laughter, and a good time had by all. We celebrated with Tukios, Precoa and Messenger and had an amazing time kicking back with our friends. More than that, we got to connect with customers, meet new faces and get to know funeral directors and funeral home owners at each event we attended. Truly, a good time had by all.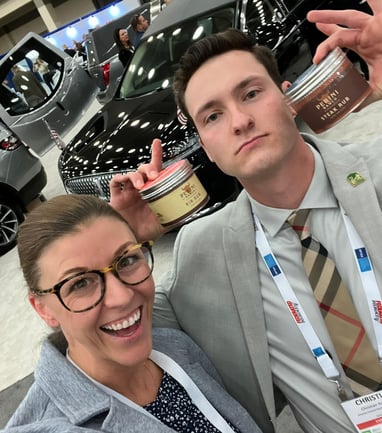 Just here for the Perini Ranch Giveaway
Raise your hand if you go to convention for the free giveaways...we won't judge. We love participating in giveaways just as much as the next guy, and this year at NFDA we gave out free tins of Perini Ranch Rib Rub. As you can imagine, word spread that our booth had free BBQ seasoning, and just like that, it was all gone. It's safe to say that next time, we'll have to order more cans!
In fact, it was such a big hit, that we're going to keep doing it. We want to continue sharing our West Texas heritage with others, because it's something that makes us who we are. But we also want to learn more about the people we share it with. Send in your favorite barbecue recipe and we'll send you a free can of Perini Ranch Rub to try out during your next cook! Visit www.passare.com/bbq to find tips and recipes, along with a community of funeral directors who love to barbecue and love Passare.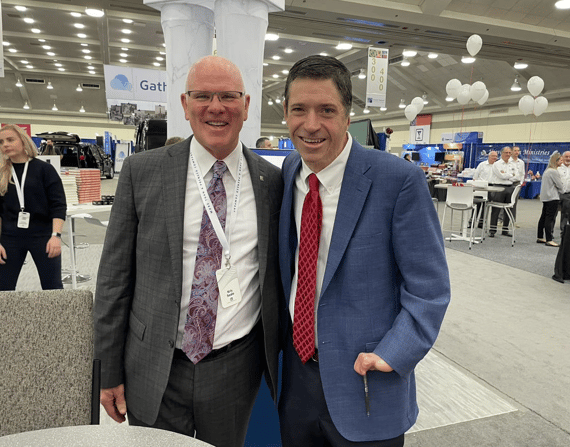 CEO Kris Seale with keynote speaker John O'Leary.
Name a more inspiring keynote
We attended a lot of sessions this week, and all of them provided great insights and information. One that we found particularly inspiring was John O'Leary's keynote presentation, Embrace Your Thoughts and Elevate Your Life. John shared his story and talked about how choosing gratitude over anger can change your life. Here's some of our takeaways:
When things are difficult, we naturally start to ask ourselves, "Why me?". During challenges, you have to teach yourself to answer that question with what you're grateful for every day:
"Why a loving family? Why a good career? Why a healthy body? "
Start asking yourself about all the good things in your life, and you'll find yourself being grateful amidst some of the most difficult storms in life. The effects gratitude can have on your life are immeasurable, and here are just a few that John mentioned:
Improved attitude. You'll naturally become more optimistic, less self-centered, and more kind. Over time, it will even increase your confidence and improve productivity.
More enduring relationships. You'll start to build more enduring, lasting relationships. Others will notice your genuine gratitude, opening the door to create stronger and deeper connections with the people in your life.
Better health reports. Gratitude can even physically lower stress-induced blood pressure. The stress and anger that zaps your energy will wash away for improved energy and the possibility of a longer life span.
More than all of that, you get a sense of joy.
A sense of gratitude will improve your life for the better, and help you continue to serve others even when things aren't going well. John talked briefly about the ability to serve while your grieving, angry or stressed and how some of the people who do this best are funeral directors. Funeral directors care about their families no matter what is happening around them. While they grieve, they're still serving. And this spirit of service is seen by every single person around them. After a while, it can be hard to continue leading and serving at this level when things start to turn negative. But, to fight the temptations of apathy and exhaustion, John brings it all back to the beginning of his speech: live a life of gratitude.
John's presentation inspired us to always be grateful for our people, our mission and all the other good things happening in our life despite the circumstances. When you start to ask the question "why me?", remember how much a spirit of gratitude can change your life for the better.
Watch John O'Leary's full presentation!
The best part
Our favorite thing about any convention is that we get to spend time with so many people. This year, we were able to learn things about funeral service that we didn't know before. We visited with our customers and heard their success stories since starting with Passare. All of this inspired us to come home and continue improving and innovating our software to better serve the funeral profession.
If you didn't get a chance to go to NFDA this year, put it in your budget for next year. It's worth your time, we promise.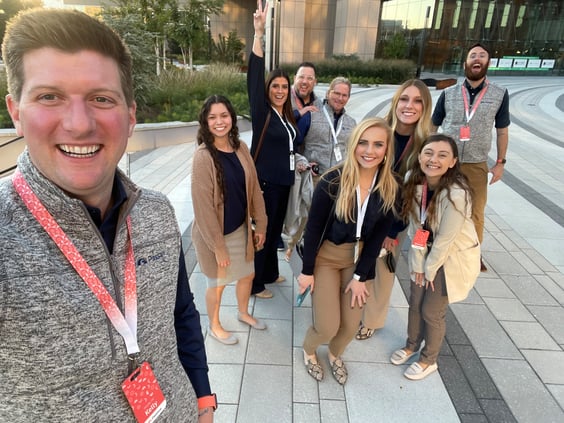 Thanks for having us, NFDA!
Questions about Passare? Schedule a demo today to talk to one of our account executives.