3 Ways You (and families) Benefit from Online Funeral Planning Software
July 10, 2023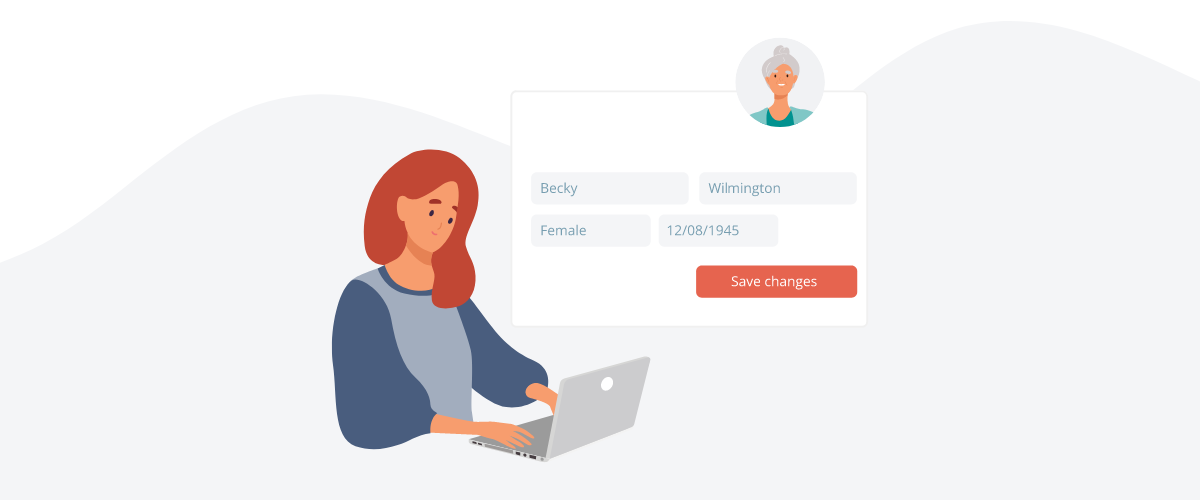 If you're like most funeral directors, you want to serve families with the best preneed, at-need, and aftercare experiences.
And with your at-need service, you need ways to enhance the experience for families and make planning a funeral as stress-free as possible.
But this can become difficult when a family:
Lives far away (sometimes states away!)

Doesn't want to come into the funeral home immediately

Can't find a time for all family members to meet with the funeral home
In these situations, funeral directors have to get creative. That usually involves sending emails back and forth, writing post-it notes, or playing phone tag with families to work out service details and write the obituary. All of this makes funeral directors feel overwhelmed and wanting a more efficient way to collaborate with families from anywhere.
Enter online at-need planning software.
Not only does it keep you organized, but it helps you and your families plan a meaningful service in today's digital world.
Here are 3 benefits of using this software in your funeral home.
#1: Help families plan a funeral online on their own time
In our recent report on funeral consumers, families expressed that they expect 12.7 days to plan a funeral.
Many funeral directors plan funerals quickly, which can inadvertently cause more stress to a family.
The fact is, families need time to plan important details and need to consult with other family members to do so.
You can help them plan from anywhere with online planning software! With it, you can:
Offer more flexible planning for families
Families no longer have to wait days (or weeks) to start planning in person. With an online tool, families can start gathering details and planning right away!
Give families more time to plan
You no longer have to worry if something gets missed or overlooked at the arrangement conference. Families can help you plan online before, during, and after the meeting to make sure no details get missed.
Collaborating with families online will make the arrangement conference less stressful and give you more time to talk about the important details.
Plus, it gives you a way to stay connected to your families throughout the entire planning process.
Learn more about online planning software here.
#2: Let the software share pricing information
Here's one thing no funeral director wants: dealing with a family that feels blindsided and upset by the final bill from your funeral home.
You can avoid this by giving families the option to browse your services and merchandise (including prices!) before the arrangement conference.
This helps families feel educated and better prepared to come into the funeral home and make the best selections for the service.
Here are a few benefits to posting your merchandise and prices in an online planning tool:
Families can view inventory before the arrangement conference.
Selecting different items for the service is so much easier when families have the opportunity to browse different caskets, flower arrangements, keepsakes, and other merchandise.
Advocates for price transparency ahead of time
Discussing prices can be uncomfortable and lead to stress for all involved.
Eliminate some of this stress by setting correct expectations before families walk into the funeral home. Viewing prices ahead of time gives families a better idea of what they can afford and better prepares them to make selections during the arrangement conference.
In Passare's Planning Center (our online planning platform), you can provide a digital catalog for families to browse merchandise and view prices before the arrangement conference. Families can even pin their favorite selections.
The best part? You can see all of their selections in real time, so when they come into the funeral home you're ready to help them make the best selections.
#3: Lower the stress and anxiety at the arrangement conference
"If I were put in charge to arrange a funeral, I'd have no idea what to do."
In the same consumer study mentioned earlier, results found that 36% of respondents strongly agreed or somewhat agreed with this statement.
Many individuals have never planned a funeral before and can easily get overwhelmed by the number of important decisions they have to make in a short amount of time.
This stress and anxiety make each decision difficult and small details easy to miss.
An online planning tool can help you create a stress-free planning process for families. With it, families can:
Complete service details on their own time, from the comfort of home

Shift their focus to a loved one's memories/stories during the arrangement conference

Clear their mind to make important decisions and catch possible mistakes
Getting some of the planning work done ahead of time gives the family more headspace to recount precious memories that you can use to help them create the most personalized service.
Introducing your families to these software solutions
You've read the benefits of online planning software, but you might be thinking:
"Will my families want to use this? And if they do, will they be able to figure out the software?"
In our tech-savvy society, many families won't bat an eye at using software to plan ahead (in fact 36% of consumers would be comfortable planning a funeral online).
So, while pitching your new online tool to more digital families might be a breeze, there is still a percentage of families who might be less receptive to the idea.
That's why we put together 3 different scripts inspired by our customers' most successful methods when inviting families to collaborate online in Passare's Planning Center.
Read these scripts to successfully invite your families to work together online and experience all of the benefits listed above.
Read it now: 3 Proven Scripts That Work to Get Families Using Planning Center >>>
Provide the best at-need experience to your families with Planning Center
The better experience a family has in creating an at-need funeral plan, the more likely they are to focus on having a healing and meaningful funeral service. And an online planning tool, like Passare's Planning Center, can help you do just that!
Passare's Planning Center allows you and your families to work together in real time on the obituary, service details, and vitals, all while staying connected throughout the entire planning process.
Ready to improve your collaboration with families?
It starts with seeing all that Passare has to offer. Get a demo today!